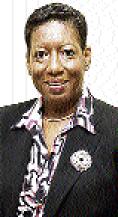 Dawn-Marie Brown, corporate credit manager in the Capital and Credit Financial Group, and colleague Anthea Domville, senior manager for portfolio planning and private clients, respond to a reader's question on how to invest his redundancy lump-sum payment of $550,000.
LIVE AND DIRECT!
Tune in to Real Business on Power 106FM
at 9:35 a.m. on Tuesday.
Read it in The Gleaner the following Tuesday.
Log on to The Gleaner's website: www.go-jamaica.com.
Anthea Domville