The world has an eternal romance with football and the furious flames of passion were kept lit by a memorable 2014 World Cup. The event came and with each passing day, it orchestrated a tumultuous ride, marked by bouts of hope, despair, heightened ecstasy and rambunctious depression!
The 2014 World Cup renewed our faith in the sport, it distorted our views relating to a world power in soccer – Spain. It revealed the strength of the desire to win – Costa Rica. It reminded us that prolific, scintillating goal poachers still exist – James Rodriguez. Regrettably, it exposed, humiliated, humbled and silenced an overrated giant – Brazil.  The Germans, I am sure, are still sipping from the cup of success while others are forced to search for the broken pieces of a shattered dream. But, 'a so life go'!
So, the party is over and like tourists, when the vacation ends, we are left with no other choice but to return to what we accept as normal – our mundane daily existence! I can hear the protest- laden shouts emanating from the motorsports fraternity – "Not true , lies all lies!"
The 2014 motorsports calendar is packed with frantic activity and truth be told, the World Cup slid into an ideal spot, thus filling a minor lull in the schedule for circuit and drag racing. Earlier today, I was reflecting on a time when drag racers and their fans were under siege from the  government and private interests. For the most part, they were discarded and when an entity decided to extend a leaf of love, complaints of abuse, dissatisfaction and prevalent unprofessional behaviour would surface. Despair rained on the sport!
NDRC
Fortunately, that was then and as I have stated before, in the National Drag Racing Circuit (NDRC), a much needed solution has been discovered. Actions, I will always argue, speak louder than words which may be amplified and widely distributed by a public address system and one hiccup excluded, the NDRC, through a thoughtful,meticulous approach, has re-energized the sport. And to show their appreciation and deliver their stamp of approval, drag racers and drag racing fans, flock to Vernamfield for each NDRC organized event.
Round 3 of the Nestle Supligen Drag Racing Series will be grabbing gears at ground zero – Vernamfield – on Sunday. The previous Rounds have left indelible, 'stupid fast' performances on the indestructible concrete at Vernamfield and if the indicators thus far are accurate, another enthralling Round of the series will engage the pleasant sounds of launch control before delivering a gratifying experience on Sunday.
BadBreed RaceCraft
If the question was asked – Which driver/team stole the show at Round 2? Our restricted biases would possibly lead us in a blind direction. But, if we allow honesty to dictate informed, rational choices, it would be a mischievous act, if the sole candidate was not selected. In a sea of remarkable performances, the BadBreed RaceCraft team swam to the fore. The 'bitching' BadBreed Mustang, directed by the wily and accomplished 'pilot', Adrian McClymont, shook the concrete and as if rocket-propelled, sped to an unheard of 8.3 et!
The jaw-dropping time left all the pretenders and nay-sayers in its wake! It is indeed amazing, what individuals, who were previously referred to as 'half-idiots', can accomplish! Do the math – add 3 half-idiots –  is the equivalent 1 1/2 idiots? I would volunteer to be a half-idiot on a team which greets the concrete with crowd-obscuring burnouts and then effortlessly blasts along the 1320 in 8.3 seconds! (click below)
Charles Maxwell
The Nestle Supligen series is a fun-filled family affair which provides drag racers with the opportunity to redefine their speed ambitions. One drag racer who has designs on elevating a major hurdle inorder to sit comfortably in the rarefied air which Veyron-fast street machines occupy, is Charles Maxwell. Charles Maxwell is well-known in drag racing circles, so it was surprising to some when he ventured into circuit racing. He brought his tools of speed to Dover and quickly established himself as a force to contend with, narrowly missing being crowned as IP27 Champion in the process.
But the bug does not stop biting and for reasons he will explain if you ask, he returned to drag racing with a 'clean' street machine – Honda Civic EG (1995).
Charles' machine.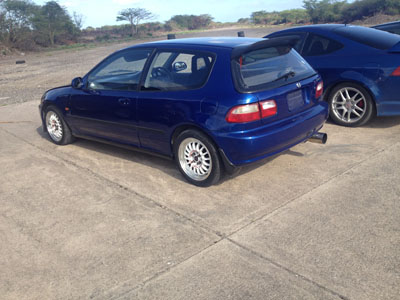 I saw the machine at the Test and Tune session for Round 2. A proud tuner, 'Biggie B', told me then that the machine revved to 11s without breaking a sweat! At Round 2, the machine repeated the performance and destroyed the field in the grudge macthes!
Speed is addictive. When you have a machine that can rip low 11s and destroy Evos – sorry Adrian – Yellow Evo – where do you go next? You build a 10 seconds machine! At Round 2, the EG was rocking upwards of 450hp. Inorder to break the 10 seconds barrier, the drawing board was revisited. At present, the engine built by Audley (Portmore) and tuned by 'Biggie B', has 600 lightning-fast horses waiting on a green light! I can see the 10 seconds barrier surrendering with a massive white flag when the 'Blue Blur' exits the finish line! Big up Autoleague!
Machine!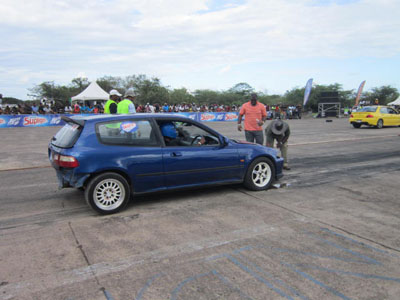 Boost is on the menu on Sunday! If you are competing – you can enjoy the turbocharged flavor. If you are spectating, you can enjoy Supligen – Boosts you up!
Nestle Supligen Drag Racing Series – Drag Challenge # 3 – Vernamfield – this Sunday!
Cecil Munroe Gleaner On-Line Writer