February 27th, 2015
by Stefan Wright
If you had told me two years ago that my tourism project would lead me to be part of a team filming a video in a music studio, I wouldn't have believed you. But that is precisely what happened, together with Jamoi, one of several young Jamaican men who had turned his life around with this project – a project which combined sustainable tourism in Jamaica and at-risk youth.
We started in an area of Arnett Gardens called Mexico, where Jamoi lives.  As we walked through the community, there were lots of people around, young and old, too many frankly for 11 in the morning.  That meant lots of people out of work.  Although, I didn't get the sense folks didn't want to work; it was more a case of not finding work.  As we moved around the community, it was encouraging to see the respect people had for Jamoi.  I was proud of him and knew we had made the right choice hiring him.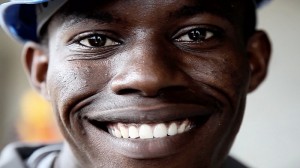 It was then my turn to be interviewed. After setting up in a park near Jamoi's house, which had an old swing and a few tree logs, they started interviewing me, which was not difficult at all because I was speaking about something I am passionate about. As an investment officer at IDB, my job is to structure transactions with private sector clients, but perhaps more importantly, to find innovative ways for our projects to improve people's lives. In this particular project, the goal was to try to get more Jamaicans involved in the construction of the new Marriott hotel in Kingston.
What impressed me most about that day of filming was that everybody had a story. There was something they wanted to do, some goal they were trying to achieve, some area of the community that they needed to develop, and they wanted to know if IDB had money to support their activity.   I found this very interesting because clearly, these were very intelligent people, with lots of ideas.  We heard about plans to create a homework center, to reinstate a weekly soup kitchen for the elderly and to develop a community center.
When we interviewed Jamoi at his house, he was very composed and natural. Seeing him sit at his front door and talk about his training for the construction of a new Marriott hotel in Kingston, I better understood where he was coming from – and where he wanted to go.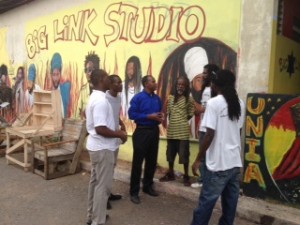 We then went to Big Yard Studio to link up with Gramps Morgan.  Now although I was a fan of Morgan Heritage music, I had never met Gramps before, so I wasn't sure what to expect.  Well, I can say I was very impressed.  We all were.  He's the type of guy when you meet him, you know he is for real.  And in terms of his development focus, we struck gold. He believes in giving youth an opportunity. And Ryan  another young man who benefited from this project – whose dream is to be singer someday – was on cloud 9, singing with him.
In the end, shooting the video was not only fun, it opened my eyes. It highlighted the potential of how a sustainable business approach promotes social inclusion and shared value – creating benefits for the business and the community. When the new Marriot hotel opens in downtown Kingston this year, these young men will feel a real sense of pride. I know I certainly will.
---
Tags: BOP, Caribbean development, climate change, community, developing the Caribbean, education, energy efficiency, health, housing, impact investing, Jamaica, Kingston, private sector, sustainable business, tourism, youth development