September 23rd, 2014
"A people without the knowledge of their past history, origin and culture is like a tree without roots." So said National Hero Marcus Garvey. Is the tree of the Jamaican people in danger of weakening, even perhaps toppling over in the next storm?
The question crossed my mind as I sat in the Institute of Jamaica's Auditorium on Sunday afternoon. The low-ceilinged, semi-circular room with its old-fashioned, dove grey furnishings and curved wooden stage was full – standing room only at times. The occasion was the National Library of Jamaica's Fifth Biennial Lecture by Jamaican writer Olive Senior, entitled "Dying to Better Themselves: Colón Man and the Panama Experience." The book is published in the centenary year of the Panama Canal.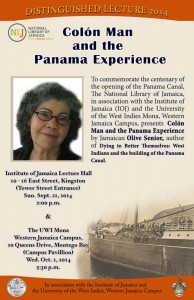 The period of history Ms. Senior's focuses on is the mass migration of Jamaicans (and Barbadians) to Panama. There was an early exodus, to work on the failed attempt by the French to build the Panama Canal (1880-88). Between 1850 and 1920 there was a "virtual stampede," Ms. Senior notes.
Mr. Garvey's words have almost become a cliché, and others have made similar comments in many different ways. But that does not make them any the less true. History is not something to be taken lightly. History is people, and we are people too. We must acknowledge and seek to understand these connections, these threads running from our ancestors' lives to ours.
So what is significant about the "Colón Man" in Jamaican history? Well, he was a risk-taker, that is for sure. So was Colón Woman, although there is less said about her; the women were mainly higglers and traders, but Mary Seacole in Kingston had her Panama connections. It was actually much easier to travel in those days. Migrants did not have to apply for visas, or struggle through the obstacle course that is Miami International Airport. They simply jumped on a boat which took them in a straight line westward from Jamaica to Panama. It was about a week's journey. Jamaica was a hub for ships to Latin America, then. How interesting, thinking of our current proposed "logistics hub."
Like Jamaicans who have departed the island for decades ever since, the Colón Man was simply looking for a better life. The grass was greener. Like many Jamaican migrants, he had a dream of riches; but he also had a reality check. The Panama Canal cut through dangerous country. Hardships there were. Our modern émigré encounters similar challenges – although he/she is not likely to be hacking their way through inhospitable rainforest, nowadays. The Colón Man suffered from racism and racial segregation working in the Canal Zone. Sadly in many countries today, racism and discrimination against immigrants persist. Yet many of those Jamaicans who made the journey a century or more ago overcame the physical and psychological obstacles to bettering themselves. They prevailed. Those who were less successful did not return; if they did, they would be ridiculed by Jamaicans back home.
All this sounds very familiar, doesn't it? But I wonder if the Colón Man was ever accused of "running away," of deserting his homeland? I think not. I suspect that those who left were admired for their boldness. And especially those who returned with gold watch chains bouncing on their waistcoat fronts (the "bling" of yesteryear) – were rather envied. Like our modern day "returning residents," or "Jamericans" vacationing on the island, they may have been regarded as amusing, even slightly ridiculous. But underneath it all, I believe Jamaicans admired them for their enterprise – and still do. They want their fellow countrymen, leaving the island, to do well. This is sometimes because they hope to benefit personally, of course. But there is also a distinct pride in Jamaicans who have done well in "farin." 
After the lecture, an audience member expressed concern about what she called "the abysmal ignorance" of younger Jamaicans about these aspects of their history. A friend also noted that, apart from two school groups, there were very few young Jamaicans in the audience. Does the older generation care more about the island's history? What can be done to address this apathy? Does the education system need to focus on what is certainly a positive aspect of Jamaican nationhood, still relevant today?
Jamaican history is about more than the politicians, the distant but ever-present Queen. It is more, even, than the horrors of slavery. It is also about that human spirit – not just of endurance, but of striving. This is what the "Colón Man" (and woman) represents. They both represent an important part of who Jamaicans are.
And by the way, I do still believe those roots are strong, despite everything.
Footnote: Did you know that Panama has a Black Heritage Month, ending in Black Heritage Day – May 30? And you might also be interested in this blog: The Silver People Chronicle: This is the Story of the West Indian People of Panama (http://thesilverpeoplechronicle.com) There are other interesting websites to explore on this topic.
"Colón Man and the Panama Experience" is published by the UWI Press and is also available on Amazon.
For those on the western side of the island, Ms. Senior will present her lecture at UWI Western Campus Pavilion, 10 Queen's Drive, Montego Bay on Wednesday, October 1, 2014 at 5:30 p.m. It is well worth attending.
Tags: Colon, logistics hub, Marcus Garvey, migration, Montego Bay, National Library of Jamaica, Olive Senior, Panama, Panama Canal