July 20th, 2020
I don't have all the answers on COVID-19. I have attempted to look at a few areas where the coronavirus has made a major impact in previous posts. However, I feel I am scratching the surface. There is so much more to be said and more importantly, so much more to be done. Because "recovery" has got to start somewhere.
There have been some good conversations to get us thinking, though. Where should we start? Where should the focus be? Or do we just scramble to get back to where we were before, as quickly as possible?
The questions that concern me most are: What lessons have we learned, if any? Are we still in the same pre-COVID mindset, or should there be something – dare I say it – different about our approach?
Just before COVID-19 reached us, I wrote about "Tourism's Fragility Exposed." We were just about to witness the decimation of the industry that one government actor recently described as "the lifeblood of our economy." Well, a few weeks later that lifeblood was all but drained out of us, leaving us with mass unemployment and no apparent way forward. We clung on as long as we could (probably too long), but as cruise ships and airlines shut down, we gave up. We were, however, almost the first Caribbean country to open its borders to visitors; this was apparently our goal, to open up early before anyone else.
Now, as we know, we are faced with a huge backlog of thousands of samples to be tested; many thousands in home quarantine, with numerous stories of visitors skipping quarantine; and long delays for those who have arrived to receive their results. Meanwhile, the Tourism Ministry continues in its own world, with "COVID-Resilient corridors" now on both north and south coasts. And yet, we know some tourists are not complying and staying in their corridors.
I am not here to just ring alarm bells, however. Solutions are needed, plans are needed – followed by actions. A knee jerk "let's get back to normal" response just won't do. Some thoughtful online discussions are taking place, organized by Our Footprint JA in partnership with Environmental Solutions Limited. Unfortunately I have not managed to participate in all the Zoom sessions in the series, but I hope to write in more detail about some key points raised. Nevertheless, congratulations to all those involved in the ongoing #COVIDChats – especially the two young hosts, passionate climate change activists Eleanor Terrelonge and Mario Christie.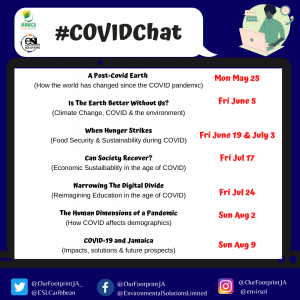 This week's discussion, on the "digital divide," is one I addressed recently in this blog – and it's an important one, especially in the context of education. Inequality in its various forms has been brought to the fore during the COVID pandemic. So tune in on Friday, July 24 and let's "reimagine education."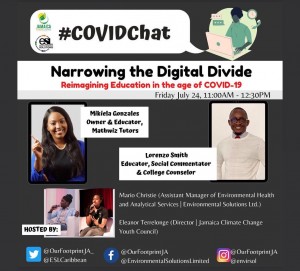 I am grateful to the former CEO of Jamaica Environment Trust, Suzanne Stanley, for sharing the Report of the COVID-19 Economic Recovery Task Force, headlined "Rebuild Jamaica." You can download the report on the Ministry of Finance website here. The report bluntly says "Economic recovery requires tourism recovery." The Ministry of Tourism's capacity should be increased; we should continue to steadily add hundreds of rooms annually; no mention of a new type of tourism (for example, community-based tourism, heritage tourism, eco-tourism).
In other words, business as usual.
And the environment? Climate change? Disaster preparedness? Are we in hurricane season? I think I will have to read between the lines and try to imagine they are brought into the conversation, while reading this report.
I have heard it said, many times: "Oh, things won't be the same after COVID. They can never be the same again. Everything has changed." I am not seeing much indication, at this point, that our government's thinking has transformed, in any way.
The "new normal" will just be "the pre-COVID normal." I would love to be convinced otherwise!
Tags: Climate Change, COVID-19, digital divide, economy, Eleanor Terrelonge, Environmental Solutions Limited, inequality, Jamaica Environment Trust, Mario Christie, Ministry of Finance and Planning, Ministry of Tourism, Our Footprint JA, Suzanne Stanley, tourism