June 10th, 2020
Well, life is confusing these days. And, it seems, there is nothing more confusing and mysterious than the coronavirus.
As we are on the verge of opening our borders to non-Jamaicans and tourists, we have finally received and hopefully perused the incredibly detailed document issued by the Ministry of Tourism. A relatively short first phase (June 15 – 30) will include a "COVID-resilient corridor" for tourists, which includes the coastline from Negril to Port Antonio.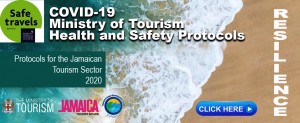 Face masks and/or Personal Protective Equipment are #2 on the list of eight key Health and Safety elements in Jamaica's tourism sector. This means for workers (in hotels, transportation, etc.) and visitors. Presumably, also, for the operators of businesses, vendors etc all the way along the "corridor"? Reading through the protocol document, this is going to be a complex challenge for the tourism sector.
Questions linger over the procedures for entry into Jamaica. Should each visitor be tested? The jury seems to be out on this. The Prime Minister insisting at a recent press briefing that testing everyone at the airport isn't possible logistically, and that anyway the test may not be accurate – all these remarks heighten uncertainty. So, the same temperature check that we get when we go to the supermarket, and a questionnaire (which the visitor may or may not complete correctly) will have to do, at our airports.
One thing we are certain of with the COVID-19 pandemic is the uncertainty. We use words like "fluid" and "evolving" to describe the situation. Not only in Jamaica, but around the world, countries are asking: Did we open up too soon (especially those now experiencing a resurge in new cases)? Should we open bars/churches/mosques/pubs? When should we open the schools? How many people should attend a wedding? etc, etc.
And now, more pressingly: When and how should we wear masks? And can asymptomatic patients spread COVID-19?
In Jamaica, the decrease in the wearing of masks has been quite noticeable. On my rare excursions out of the house, I have noticed that many people (especially younger men, cab drivers and vendors) are not wearing masks. I saw a cab carrying two elderly women wearing masks and driven by a man with no mask! There are frequent complaints about the decline in mask-wearing. Was it just a passing fad?
It seems to me that there is a communication issue. As soon as the signal was sent that the government is "relaxing" certain requirements and rules, this was taken to mean that wearing a mask (and of course social distancing) was – well, optional. The Ministry of Health and Wellness needs to go back to the drawing board and emphasize those precautions that were drummed into us at the beginning of the pandemic: wash hands frequently, wear a mask outside, keep your distance.
This uncertainty in communication seems to have translated into the World Health Organization (WHO), whose strictures our Ministry closely follows. The confusion over asymptomatic patients seems to have been "clarified" after it made headlines worldwide, and gave our tourism officials a good momentary fillip: Good news! We don't need to worry about asymptomatic patients and so…perhaps…why wear masks or social distance? Oh, dear.
Now, the WHO issued new guidance on masks three days ago.
The WHO is also "evolving" in its pronouncements, it seems – despite the fact that governments would rather take their advice as iron-clad and solid. Initially doubtful about the wearing of non-medical masks (as was I, to be honest), it now advises:
If there is widespread community transmission, and especially in settings where physical distancing cannot be maintained, governments should encourage the general public to wear a fabric mask. WHO also provides details on the composition of a fabric mask and how to safely wear one.
Be safe out there.
P.S. I wrote recently about the challenges that Jamaicans living with HIV/AIDS face during the pandemic. Shemala Mitchell also did a report on this topic on Television Jamaica this evening. Just to let you known that next week the Ministry of Health and Wellness will be partnering with I-Tech and JN Plus on masking for a Zoom meeting. See below…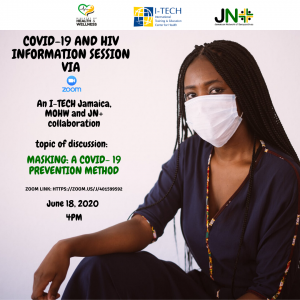 Join us next Thursday, June 18, 2020, at 4 PM for a practical MOHW approved COVID-19 and HIV related information session, on the topic: Masking: A COVID- 19 Prevention Method on Zoom. An I-TECH Jamaica, MOHW, and JN+ collaboration. Have your questions answered by a multifaceted panel of advocates and Health Care Professionals Click on the Zoom link: https://zoom.us/j/401599592
Tags: COVID-19, HIV/AIDS, Jamaica, masks, Ministry of Health and Wellness, Ministry of Tourism, Prime Minister, tourism, travel, WHO, World Health Organization