May 15th, 2020
The ongoing pandemic, and our response to it, continues to raise many questions, and fewer answers than I would like. With the slight "loosening" of social restrictions and the pending opening of our borders, how are those who already face so many everyday challenges faring? And one wonders, how do they face up to the fact that we are now being told we should "live with COVID"?
This evening on television I saw a young woman in St. Catherine, living in a tiny zinc shack with her partner and their little daughter. No running water, no sanitation. She sells a little fruit by the roadside. As she spoke, a tear emerged from a corner of her eye, above the nice clean mask the reporter had apparently given her. Those quiet tears were heart-breaking. She spoke well and bravely, but she desperately wanted a decent house – with a bathroom.
But people struggling in deprived communities, on the fringes of society, are not even counted among the "vulnerable" in the context of COVID-19. Unless, of course, they are already aged 65 years or older, living with disabilities or with underlying chronic health conditions such as diabetes, hypertension, or heart disease. Many Jamaicans could actually check all, or most of those "at-risk" boxes.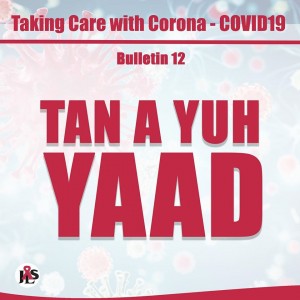 So, let's look at those living with compromised immune systems – specifically, Jamaicans living with HIV/AIDS. Jamaica AIDS Support for Life (JASL) remains open to serve its clients during the COVID-19 pandemic. The organisation has modified its treatment, care and support response to meet the needs of its clients, including ramping up the writing of multi-month prescriptions to facilitate 3-6 months dispensation of antiretroviral drugs (ARVs). JASL, through advocacy and partnership strengthening, has also tried to ensure that there is the facilitation of the filling of these prescriptions for periods longer than one month, where possible. During the quarantine in St. Catherine, for example, JASL made personal calls to pharmacies to ensure that clients could obtain their medication.
COVID-19 and the curfew hours implemented by the Government of Jamaica (GOJ) have impacted operations at the JASL clinics. While the clinics remain open, the opening hours for evening sessions have been condensed and all clients must schedule an appointment prior to attending.
The organisation has developed its own Infection Prevention and Control Protocol (IPCP) which has been implemented to protect its staff and clients from COVID-19 and other infectious agents.
Since COVID-19, several JASL clients have lost their jobs and are in need of money including travel stipend to attend clinic, nutritional support and care packages including sanitization items. Loss of employment, lack of basic living support and depleting nutritional supplies are the main issues that undermine clients' adherence to medication. In order to play its part and ensure that the gains made with adherence and viral suppression of its clients are not eroded, JASL is trying to assist clients by providing financial assistance, nutritional support and care packages.
The organisation is now collecting donations for a number of clients who lost employment and are not accessing the benefits of the CARE Programme set up by the Ministry of Finance to provide social support. Most JASL clients are in the lower-income bracket of society and would benefit from these donations.
The compromised immune systems of Jamaicans living with HIV/AIDS means that many are afraid to go outside. Yes, afraid. That is the situation for many in these vulnerable groups – including elderly people who may be fairly healthy, and those who have underlying health problems. The fear of going out increases their isolation and puts added stress on their physical and mental health. And they are continually advised to "tan ah yuh yaad."
I want to write more about other groups who are especially challenged at this time; so, there will be a Part 2 to this. Meanwhile, I would urge Jamaicans not to push aside or ignore those who are having particular challenges at this time – and there are many. If you can help someone along the way, please do. Donate to a reputable organization, or support an individual or family you know who may be struggling. People are proud – they may not even tell you that they're struggling.
But please – do what you can.
Jamaica AIDS Support for Life: Help JASL to help their clients with a kind donation. Tel: 876-969-0202 to find out more or go to their Facebook page for more information. Website: jasforlife.org.  Offices in Kingston, Montego Bay and St. Ann's Bay.
Tags: COVID-19, Facebook, HIV/AIDS, Jamaica, Jamaica AIDS Support for Life, Kingston, Ministry of Health and Wellness, Montego Bay, NGO, social media, stigma and discrimination, youth at risk