May 22nd, 2020
"A population that is left behind."
In the first part I wrote about our most vulnerable citizens, whose immune systems are compromised during this pandemic. People living with HIV/AIDS have more to deal with than physical illness. It's about how other people regard them, and treat them. Unfortunately, this is also true of all our "vulnerable groups": It is not only their physical frailty, but the way in which they are treated by their fellow citizens. Stigma and discrimination against those living with specific illnesses (including COVID-19 itself), those with disabilities, Jamaicans living in certain communities, and older citizens (ageism) is real and ever-present. The pandemic has shown up not only inequalities in the society, but the accompanying attitudes.
The quote above is from Joy Crawford, Co-founder and Director of Training and Programmes at the non-governmental organization Eve for Life. When we talk about Jamaicans who have been overlooked during the pandemic, the women served by Eve for Life – with tremendous dedication, over the past two decades or so – must come high on the list. These are young mothers, mostly living with HIV, and their children. Did you know that in this 15 – 24 age group, infected women are more than double the number of men?
But it doesn't end there. These young women are particularly affected by the peculiar impact of COVID-19. They are spending more time at home, and for too many of them, this means they have to spend more time with their abusive partners. They have also lost their income, and interaction with their children and partners has become difficult, leading to violence. The stresses are magnified; due to lockdowns, they are not able to get out, go and visit their mothers, or find a safe haven during this time.
These are not comfortable situations that we talk about a lot. In fact, these girls' lives are often hidden (the catch phrase is "marginalized,"). They are really on the fringes of society, hardly participating – even at the best of times, and even less so now with the coronavirus. "At Eve for Life, we are the only ones who can reach them," says Joy Crawford.
Some years ago, the girls formed a support group for those suffering from domestic violence. Eve's "Mentor Moms" support, advise and encourage the younger girls. Eve provides counseling for the mothers and support for the children. The girls are not "victims." They are empowered and over the years many have continued with their education, trained for income-earning positions, learned life skills and become independent financially.
Eve for Life has four offices – in Kingston, St. Ann's Bay, Sav-la-Mar and Montego Bay. Currently, approximately 120 girls are accessing their services directly, and there are over 100 dependent children – mostly babies and toddlers. Those of school age are woefully left behind in terms of their education; out of 19 children that Eve works with in the St. Ann area, only two had online access.
Right now, Eve for Life is focused on providing essential services. These young women need food. And water! "The girls were overjoyed by a donation of drinking water recently," said Joy Crawford. Eve for Life needs cash grants for families; they have to pay their rent, which is usually $10 – 20,000 monthly. They need to have access to medication, and someone to pick it up and drop it off. They urgently need masks and hand sanitizers to keep them safe. They also need food and supplies for the small children; and educational support for the older children.
Joy Crawford would like to see a "higher level" response to these closely related issues – a tragic cycle of child abuse and rape, leading to teen pregnancies and that vulnerability to diseases such as HIV/AIDS. These girls are struggling bravely on. But they need help, especially in this time of isolation, unemployment and uncertainty. And they need a chance for a better life, which they are more than capable of.
If you would like to help these young women and their children, please contact Eve for Life at 53 Renfield Drive, Kingston 20. Email: info@eveforlife.org.
Eve For Life, Scotiabank, Constant Spring Financial Centre
JMD Savings acct # 21725 – 32433
USD Savings acct # 21725-32543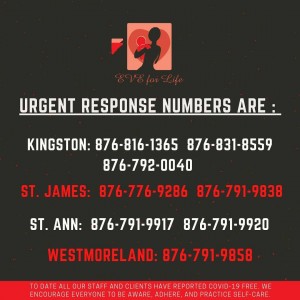 Tags: ageism, children, children's rights, COVID-19, Eve for Life, gender equity, gender-based violence, HIV/AIDS, human rights, Joy Crawford, Kingston, Montego Bay, NGO, Savanna-la-Mar, senior citizens, St. Ann, stigma and discrimination, teen pregnancy