May 5th, 2020
Many of us might not have noticed it: Sunday, May 3 was World Press Freedom Day 2020. The theme was Journalism Without Fear or Favour.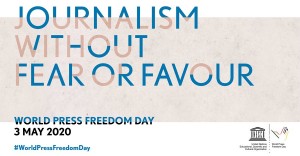 The day is usually observed with some kind of public forum organized by the Press Association of Jamaica. With the pandemic on, obviously that was not possible. The Prime Minister commented on Jamaica's high ranking – and the Mayor of Kingston, who simply took the time out to show his appreciation for the Jamaican press on Twitter.
It is actually a big deal that Jamaica is ranked sixth in the world in the annual press freedom rankings, hopping up a couple of places. We are in good company, up in the Top Ten, and for the sixth consecutive year. This is something to be quite proud of. Here is the assessment of Jamaica from Reporters Without Borders, who compile the World Press Freedom Index.
The UNESCO Cluster Office for the Caribbean hosted an online dialogue, which I unfortunately missed, early on Monday morning. The theme was Rethinking the Media Landscape in Caribbean Small Island Developing States Post-COVID19. I was not aware that we are  "post-COVID" yet, but I suppose the idea was to look to the future. Around 50 participants joined in. You can download the program from this page. Incidentally, UNESCO has a useful Resource Center of Responses to COVID-19  for journalists, here.
Some of the discussion focused on what is called "media capture" by governments and by corporations that may or may not be politically connected or influential. Columbia Journalism Review's Anya Schiffrin described media capture as "a form of soft pressure that is ubiquitous and increasing in many parts of the world." Might this sound a little familiar? The English-speaking Caribbean consists of small states, where everyone knows everyone else and "links" and "runnings" are very useful, indeed. So, how do journalists maintain their independence of thought and action?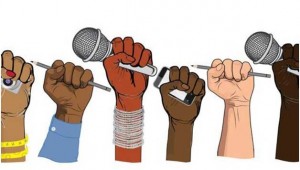 In the Caribbean Community (CARICOM), our press is "free" in many respects, especially compared to other countries very close to us, where journalists are regularly locked up, harassed, and even attacked and killed. The Latin American region has a pretty alarming record in terms of the downright dangerous conditions that the press operate in. In our relatively small community, possible or perceived "threats" are not the physical kind; they are much more subtle. That "soft pressure." Think about it.
Therefore, I welcome and appreciate the fact that, in these COVID-19 times, Jamaican politicians are prepared to stand up on an almost daily basis, and make their presentations, and then are questioned by the media (without having prior knowledge of questions to be asked, to my best knowledge). This is highly commendable. Our leaders are polite, as frank as they know how to be, and remarkably patient. They do their best to answer the questions. Moreover, the entire Jamaican public is able to access these briefings, streamed live on social media and on television.
Yes, this is a big deal, too.
The Jamaican public, however (some of whom are politically partisan) are not entirely happy with this state of affairs. I am not sure if they would prefer to listen to a talk from the Prime Minister and others, everything nicely cut and dried, and then turn off their television. Keep it simple. Why do journalists muddy the waters so often, some might ask? Why do they ask such long questions? Why do they ask so many questions? Why do they repeat themselves? Who is that woman, anyway? Why does this one talk so loud? Why is he so rude?
Since this is the time of COVID-19, let's reflect on these words from the United Nations Secretary General António Guterres:
As the [COVID-19] pandemic spreads, it has also given rise to a second pandemic of misinformation, from harmful health advice to wild conspiracy theories. The press provides the antidote: verified, scientific, fact-based news and analysis.
Perhaps this is why the journalists ask these complicated questions. COVID-19 is not easy to understand. There are many threads to pick up, some of them quite tangled together.
However, our political leaders are willing to go through the media hoops. They get it. They value the relationship, because they know it works both ways. It's almost symbiotic. Unlike a certain President up North, they do not call any journalist "terrible" or lambast a media house as "fake news." Unlike the People's Republic of China, journalists are not sentenced to 15 years in jail and fined 1 million Euros for accusing the ruling party of corruption in social media posts, like Chen Jieren. China has the worst record globally for imprisoning journalists, bloggers, freelance writers, publishers and commentators – 67 in the past year.
And for that I personally am thankful. I wish more of our citizens would recognize how important this is for our democracy; but then, we don't have civics lessons in schools, do we?
I hope our political leaders will continue to talk to the press on a regular basis, after COVID-19 has finally retreated. It will be helpful, and our press and public should welcome such a development "post-COVID."
Tags: António Guterres, Anya Schiffrin, Caribbean, Caribbean Community, Chen Jieren, China, Columbia Journalism Review, corruption, COVID-19, human rights, Jamaica, Mayor of Kingston, media capture, Press Association of Jamaica, press freedom, Prime Minister, Reporters Without Borders, Small Island Developing States, social media, Twitter, UNESCO, United Nations, United States, World Press Freedom Day, World Press Freedom Index