Saint International's annual extravaganza, Style Week 2010, took place July 9th – 11th. We were thrilled and entertained thoroughly, by amazing creations from truly creative designers and beautiful black models.
Friday night was International Menswear Collection night at Devon House. The show practically started on time and the production was flawless. Refreshing for this region right fashionistas

.
All of the collections presented were of an outstanding quality and style, and I am going to give a few a special mention.  Here we go…
Rick B's bold red creation and Greogory HOD Williams captured with his white masterpiece are two pieces I just had to share with you.  Both pictures courtesy of The Star, Photographer Winston Sill.
As you can see Rick B just keeps on getting better and better! His pieces had intricate detailing with a classic sophisticated fit.
RAJ a newcomer to Style Week, showed an impressive, unique and dynamic collection.   SPOKES APPAREL menswear collection illustrated sophistication, detail and flair.
DEXTER 3D POTTINGER a long time favourite of mine and a definite crowd pleaser delivered yet again!   As always his collection was fashion forward, creative, dynamic and made a bold statement.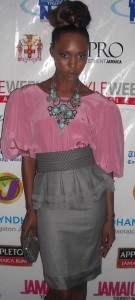 Picture courtesy of Allan Virgo of an Allan Virgo design.
Saturday was titled Mecca of Style,  where the designers showcased their womens collections. Unfortunately the show started extremely late.   This led to some members of the audience becoming  disgruntled.   For those of us that stayed we were treated to a diverse array of collections.
For me the highlights included the bold, funky, dynamic pieces from the HOUSE OF GILLESPIE.  We also had  DONOVAN DEPASS, exquisitely elegant and sexy collection. while, GREGORY 'HOD' WILLIAMS treated us to a fashion forward, futuristic display of womenswear. RICK B's womens collection was feminine, sexy and sassy. Last but not least was ALLAN VIRGO. His collection was FABULOUS!! It was modern, fresh, and amazingly well crafted.  Just MESMERISING!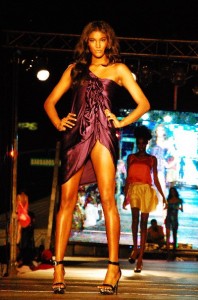 Picture courtesy of Indashio of his sexy creation.
Sunday was Fashion Block night fashionista's! Saint International gave back to Jamaica. As they do every year, by treating the country to a free fashion show of world class designers and models.
Fashion block took over Knutsford Blvd, New Kingston, Jamaica and the streets were really blocked fashionistas.  A huge crowd lined both sides of the streets  to watch the show unfold.
Technical issues caused the show to start late, but patrons didn't seemed to mind as they  were enjoying the vibe created by Fame FM DJ Nica. Great job FAME for  keeping us entertained with heavy tunes & beats.
The must mentions of the night are:  ALLAN VIRGO's phenomenal creations! HOD's bold edgy pieces. DONNA SHEMERA who pushed the envelope for swimwear. DEXTER 3D POTTINGER! I simply LOVED his 'vogue' opening to his collection of funky, inspirational pieces. Last and definitely not least New York designer INDASHIO, gave us glamour to the max, with sexiness,  style and sass.
TRULY A FASHION EXTRAVAGANZA, SAINT INTERNATIONAL PROMISED TO ROCK THE FASHION WORLD AND THEY LIVED UP TO THAT PROMISE!!!!
Did you attend any or all of the events?
What did you think?
Who were your favourite models/designers?
Let me have your thoughts fashionista's!
Talk soon
Shaz