I'm back from the Spring/Summer 2012 shows in Europe. My favourite was London Fashion Week. Of course

. So I'm energised, enthused and rearing to go…So join me as we talk about Miss Jamaica World, Danielle Crosskills wardrobe. The debates, discussions and arguments are raging

Which side do you fall on? Well I'm certain Danielle's an intelligent, charismatic beauty but does the wardrobe fit the bill? Below are a selection of pictures all credited to that amazing Jamaican photographer Winston Sill with my comments. I'd love to hear yours!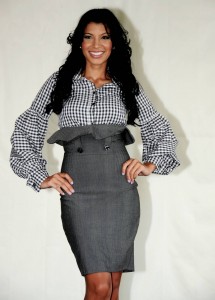 The daytime creation above by Anarchy works on some levels for me. The full sleeved blouse is cute! But sorry Anarchy I feel the high waistband area is far too fussy to be falling right beneath our beauty queens breasts. Not very flattering.
Keena Linton's fuschia and black piece above is both sexy and youthful. Love the lace back and embellishment on the lower part of the dress. Gorgeous!
But the black and white ensemble (below) for me does not have the youthful elegance I associate with Miss World. Sorry! The head wear from Marcellas Designs of Cinderella Hats is beautiful! As always!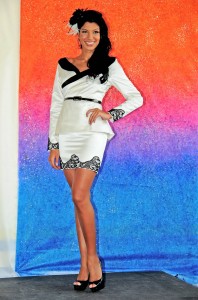 Uzuri gowns are distinctive, bold statements. The black number pictured below fits the beauty perfectly. Accentuating those curves that can make all the difference.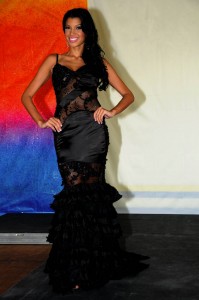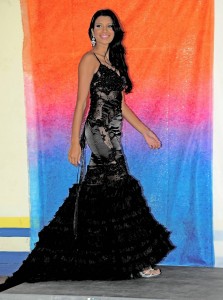 Unfortunately a number of the looks for Danielle I felt were very matchy matchy! Silver dress with silver pumps, blue strapless mini number with matching shoes and earrings. A lot of the time a mismatch of colour would accentuate the outfit and give it an on trend, fresh vibe rather than a 80′s feel. Just imagine a hot red pump with the cute black mini dress. Yeah…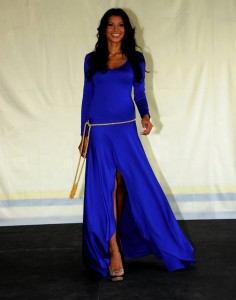 I also found a lot of the pieces for our beauty queen to be totally unflattering and inappropriate for this renowned pageant. For example the dress pictured above, in my opinion its far too frumpy. Julan why oh why… I know you can do better I have seen your work.
NEXT… is this white gown bridal or maternity wear? Uzuri International like Julan is a strong design house but one has to wonder what happened here!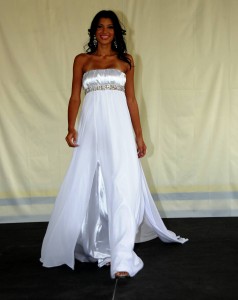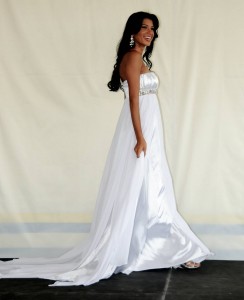 I do have to say that when I consider Miss Jamaica World's wardrobe as a whole I find it to be far below the calibre expected for beauty pageants.
My comments are not designed to take anything away from the designers. I have seen a number of fashion shows over the years with these designers and I've seen some amazing creations that show these designers to be world class. So I'm left thinking possibly the brief that was given to them or the selection process or both were lacking?
How do you feel about Miss Jamaica World's wardrobe? Is it strong enough to help our Jamaican beauty bring the title home?
I've also been monitoring the polls for this competition on a daily basis. In one poll Spain is heading the competition as the favourite, closely followed by Venezuela and Hungary. While Sweden leads in another poll followed by India and Ireland.
Unfortunately Jamaica is low in the rankings in both polls. Nevertheless, I'm sure you'll join me in wishing our Jamaican beauty Ms Crosskill all the best for November 6th in London, England.

.
For more pictures of Danielle's wardrobe take a look at Flair Magazine and the Miss Jamaica World Pageant 2011 Facebook page.
Talk soon
Shaz