The Leader of the Opposition in Jamaica, Mrs Portia Simpson Miller topped the story rankings for the Jamaica Gleaner for the week April 13  – 19 2009, with more than 18,000 page views.  Why?   Her style… fashionistas… pure style…
Lady P, caused many tongues to wag, and hearts to rush when she attended Parliament in a denim suit made most naturally by VERSACE.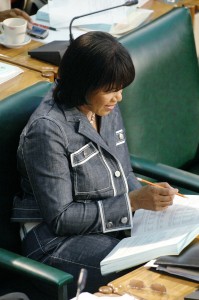 What do you think… Should Lady P have worn this suit to Parliament? Did she flout the rules?  Yes, no, maybe?  Should denim be allowed in the House only  if its VERSACE?
Finally,  do you own a denim suit if so send me a photograph of you in it and let me know why you think it could or could not be worn to work.  Just email them to me at feedback@jamaica-gleaner.com - Come on now it wont take you 3 minutes to select it and then send it to me via email…just copy paste the address

.
Until next time.
Shaz.
P.S.  Click here for the story…
Photograph by Ian Allen, Staff Photographer, Gleaner Company.