I was stunned on returning from Norway. I was now part of the team to go to the South Pole! and had met the Queen again![1] She was amused that we were such a diverse team. Where else would a Jamaican, a Singaporean, a Bruneian, a Brit, a New Zealander, a Ghanaian, a Cypriot and an Indian go together, but to furthest ends of the earth?
After our Norwegian trip, we flew to Britain to for Commonwealth Day at Westminster Abbey – There I got the support of the Jamaican High Commission and High Commissioner, Burchell Whiteman. They welcomed me back to civilisation and sent me home with a game plan to get funds and train while home.
It was an intense period back home – lots of training, work and fundraising.
But I still needed lots of money and use of the Commonwealth name was the main privilege. Each candidate needed the equivalent of millions of Jamaican dollars, just to fly into Antarctica, which is accessible for only three months each year, due to its weather. There is no Air Antarctica – you have to basically charter a plane.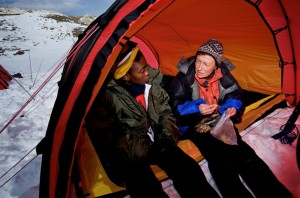 I started writing to companies and applying to relevant government funds again. Again the rejection came. With lots of help from friends like Yolan Zanders, Leana Tomlinson and Christina Hoo Fung – we kept the expedition in the media…and had FROZEN – a benefit event to raise funds for the expedition. We raised more awareness than funds. But it helped in securing sponsorship from Nature Valley and WATA – without which New Zealand would have been impossible. Plus with my new gummy bear-free diet, both products were key. I eat about two bars a day!
Secondly, another sponsor – Earth Chef, Grace Foods – came on board as well to supply food to the expedition. On a team with a Muslim, a Hindu, Christians – of the traditional and RastafarI-tinged variety – food preferences are important. Vegetarian is what we can all agree on.
The little engine propelling me to New Zealand had started.  Jamaica to the South Pole!!!
More on the actual New Zealand trip when you check back here on October 26. You can follow my story at www.gleanerblogs.com/flair.
Contributions to Kim-Marie's expedition can be made at Jamaica National account no. 10870166. Also provide feedback at Jamaica@commonwealthexpedition.com or the SouthPole Trod Face book Page
---
[1]
The first time was as a Rhodes Scholar.