October 27th, 2015
"I've been here since six this morning," one senior citizen told us with a cheerful smile, as he waited for a health check in the Ministry bus.
The bus was parked next to Maggotty High School in St. Elizabeth, for a "Build Integrity" Community Health and Information Fair co-sponsored by National Integrity Action (NIA) and the Social Development Commission (SDC). Health was at the top of the agenda, but many local residents had also come for their "age paper" – their birth certificate and other documents that they could apply for at the Registrar General Department's tent (which was solidly packed). Numerous other booths held representatives of the Public Defender's Office (Deputy Public Defender Herbie McKenzie was there interacting with members of the public), the Office of the Contractor General, the Jamaica Foundation for Lifelong Learning and many other government agencies offering valuable services to Jamaican citizens. The National AIDS Committee conducted free HIV/AIDS testing in the nurse's office.
It is the first term for Sean Graham as school principal (he was formerly Vice Principal). In his welcome, Mr. Graham called the school "the best in the world," and that is what he wants it to aspire to. He is said to be approachable and patient with the students. The last couple of years have not been without their challenges, but in his welcome remarks Mr. Graham had an air of enthusiasm and looking forward. He is not looking back.
The 36-year-old Principal noted the school's "salubrious physical environment." Salubrious it is, indeed. It is surrounded by green, nestled in low, forested hills. The playing field is down a slope from the school; as I watched boys playing football, a group of cattle moved slowly into view, browsing the vegetation beside the field. At the opening ceremony, dragonflies dipped in the air in front of the stage. What a great place to get an education, I thought.
Bearing this in mind, NIA's Richard Pasley stressed the importance of "the integrity of your health." Pointing to the growing prevalence of non-communicable diseases such as heart disease, diabetes and other "lifestyle" diseases, he pointed out that they accounted for 60 per cent of deaths in men and 75 per cent in women in 2009. Who knows, the percentages may even be a little higher now. Most Jamaicans, Mr. Pasley observed, do not include enough physical activity in their daily schedules. And just about everyone consumes well below the daily recommended intake of fruits and vegetables.
So, the emphasis was on developing good eating and exercise habits, being proactive about your health. This was underlined in an amusing skit played out by Health Educator Marion Waysome and the school nurse. Slumped on a chair, Ms. Waysome groaned and complained. She was "not feeling good at all." The nurse, of course, gave her a lecture. She then broke out into a catchy song, the refrain of which was, "Gimme fruits and water every day!" It was done with humor, but also with serious intent.
Ms. Waysome is a graduate of the University of Technology in Dietetics and Nutrition. She is currently studying for her Masters in the Department of Community Health and Psychiatry at the University of the West Indies and is doing a twelve-week internship at Maggotty High. Her positive influence is already noticeable, a few weeks into the school term. "Maggotty High is a health-promoting school," she declared. An impressive booth at the fair was filled with health promotion messages and information, as well as samples of healthy cooked meals. Ms. Waysome is fond of brown rice, and so am I. It is actually tastier, as well as better for you. I believe Ms. Waysome will be able to get the message across to the students (let's face it, teenagers do tend to be rather lazy).
As the day began to wind down it was time for an aerobics class, conducted by Mr. Bogle, the school's physical education teacher. The boys sweated it out on the playing field below; in keeping with the spirit of the Health Fair, several groups had been jogging, doing stretching exercises and push-ups and playing football and cricket throughout the day. The aerobics was mainly for the girls, and one senior resident who really enjoyed himself trying to keep up with the moves, and at times improvised delightfully. He looked very fit, to me!
Principal Graham offered us a marvelous quote from Marcus Mosiah Garvey, by the way. It may well sum up Mr. Graham's philosophy, and that of the school as he seeks to guide it along the right path. It's actually one of my very favorite Garvey quotes:
We must give up the silly idea of folding our hands and waiting on God to do everything for us.If God had intended for that, then he would not have given us a mind. Whatever you want in life, you must make up your mind to do it for yourself.
There is a sense of purpose at Maggotty High School. No lazing around. Let us get on with it, is the message.
And don't forget to drink your eight glasses of water a day! Not small glasses, either. That's cheating…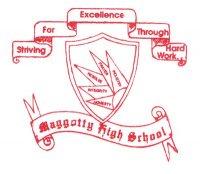 Tags: aerobics, community health, cricket, dietetics, exercise, football, HIV/AIDS, Jamaica Foundation for Lifelong Learning, Maggotty, Maggotty High School, Marcus Garvey, Marion Waysome, National Integrity Action, non-communicable disease, nutrition, Office of the Contractor General, Public Defender, Registrar General, Sean Graham, Social Development Commission, St. Elizabeth, University of Technology, University of the West Indies