October 17th, 2016
It all makes perfect sense.
iCreate Institute, launched last week at the University College of the Caribbean (UCC) in Kingston, has the potential to take entrepreneurship and education in a direction . Through this partnership, practical steps are being taken to equip young Jamaicans with the tools to turn their creative dreams into something solid, income-generating, and job-creating. This is an exciting venture.
I first met Tyrone Wilson in 2014 at the Technology Innovation Centre at UTech, where he had started his company, eMedia Interactive. I was struck by his earnest demeanor. I wrote a blog post about him and the company he founded in 2008, starting with online magazines. Since then, I have seen him several times – often in my neighborhood cafés – always tuned into his smartphone or his laptop. Now, eight years on, Mr. Wilson has taken a major step forward. When I met him again recently, sporting dark framed glasses and a beard, he looked more like a teacher – a mentor even. This is the start of something new for him personally, it seems.
Tyrone Wilson has always been serious about creative content. He has never regarded himself as a "tech entrepreneur." As has been said so often it is a cliché, technology is a tool, albeit a transformative one. UCC appears to have the same pragmatic approach as Tyrone – a good fit, indeed. Group Executive Chairman of the UCC Group of Companies Dr. Winston Adams pointed out at the launch that his institution has always sought to respond to providing market-driven opportunities for young Jamaicans. Wilson concurs that there are many opportunities, locally and globally, that Jamaicans are not currently able to fill because they are not trained for them. "It's one of the most entrepreneurial industries around," he notes,"and barriers to entry are less stringent than in other sectors. What is needed now is intellectual capital." Also recognizing this need, UCC has moved really fast to put everything in place for the iCreate Institute to come into being. The time is now.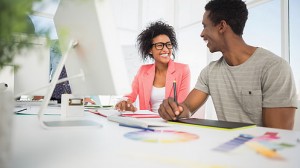 Tyrone (who, by the way, studied Banking and Finance at the University of the West Indies) told us that the iCreate concept has been around for a few years now; he started a mentoring and internship program for graduates at his firm in 2012, under the same name. It was technology, creativity and entrepreneurship, rolled into one – the elements of the upcoming UCC program. The iCreate Institute will offer Certificate programs in Advertising, Animation, Content Marketing and Strategy, Digital Video Production and Project Management for Creatives. It will also offer a BA in Communications Design. Teaching will begin in January, 2017. Here's the link for applications.
As Creative Industries Manager at JAMPRO Renee Robinson put it, creative entrepreneurship is "engaging the right and left sides of the brain at the same time." Ms. Robinson, who is also JAMPRO's Film Commissioner, pointed out that the range of job opportunities is extremely wide. "Did you know the making of one film creates 3o0 jobs?" she asked. eMedia Interactive Director Sheree Martin, who moderated the proceedings, said this is "the future of jobs" – the non-traditional. We have to think about redefining success. Her own daughter is studying at the Savannah College of Art and Design.
UCC's Senior Director of Strategic Business and ICT Development Dr. Maurice Miller spoke about the "Orange Economy." We already have the Green Economy and the Blue Economy; but have you heard of the orange one, before? Well, the Inter-American Development Bank published a manual on it three years ago (The Orange Economy: An Infinite Opportunity). So it is time to catch up on this concept, although I suspect Jamaicans already have a good grasp of its meaning. The Orange Economy is, essentially, the creative and cultural economy. For a long time now, Jamaica has been acutely aware of its "orangeness," and highly values its creative riches – the expressions of its vibrant and diverse culture. As eMedia Chair Richard Byles noted, "Our unique culture lies at the base of our creative industries." He hopes that the Orange Economy will create around 5,000 jobs in Jamaica in the next decade (I hope it will be more). But the fact remains: "We must have a trained cadre of professionals" in the field, Mr. Byles added.
Dr. Miller ended with a powerful and thought-provoking quote from T.E. Lawrence ("Lawrence of Arabia"):
"All men dream: but not equally. Those who dream by night in the dusty recesses of their minds wake up in the day to find it was vanity, but the dreamers of the day are dangerous men, for they may act their dreams with open eyes, to make it possible."
The dreamers of today, with eyes wide open, are not necessarily dangerous men and women. However, these men and women are staring at the future, and doing something about it.
I wish the iCreate Institute – and all those who I know will benefit from it – huge success.
Tags: advertising, animation, communications, creative industry, education, eMedia Interactive, entrepreneurs, iCreate Institute, Jamaica, JAMPRO, Kingston, Maurice Miller, Orange Economy, Professor Dennis Gayle, Renee Robinson, Sheree Martin, T.E. Lawrence, Technology, training, Tyrone Wilson, University College of the Caribbean, University of Technology, University of the West Indies, Winston Adams