October 31st, 2016
I am looking forward to joining a group of enthusiastic workers from the National Environment and Planning Agency (NEPA) this week. We will be traveling up into the Blue Mountains, to a place called Content Gap in St. Andrew, where NEPA and its partners will engage in a pretty major tree-planting exercise at the Primary School and Community Centre. I am also hoping to do some birding, so will be armed with my binoculars.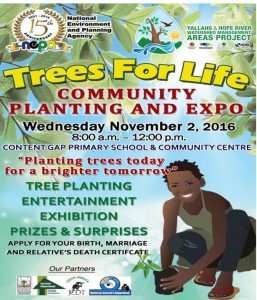 These kinds of activities are not mere symbolism. Especially if young people are involved, they light a spark. The physical activity is important, including the experience of actually getting one's hands into the earth and pressing down the roots of a young tree into it. It also inspires teamwork. Young people like doing things together, with minimum supervision. Once they are shown what to do, the adults can stay in the background.
The Trees for Life activity is in support of a precious – and I would say, endangered – watershed area that supplies much of the fresh water needed by the greedy urban sprawl that is the city of Kingston. Or rather, I should say, thirsty. This is the Yallahs and Hope River Watershed Management Areas Project, which in April this year was allocated a sum of J$65.5 million from the Global Environment Facility (GEF) and the Jamaican Government. It is working on developing a database (hardware and software); scientific assessments of the area; and plans to reforest 100 acres of degraded public lands.
While all this important work is going on, it is critical – to my mind – to engage communities, in particular the farmers and the youth (the younger the better, I believe). Changing hearts and minds is not an overnight thing. Nor is adapting or changing practices that have developed over years and become ingrained – practices and traditions that have become unsustainable.
However, there is nothing like this phrase "better together." It sounds rather political, but by this I mean that farmers and other groups that have many issues and experiences in common can – and must – work together and support each other while learning new techniques and ways of looking at their environment. It cannot be a case of "doing your own thing" any longer. I recently read about a system set up in Uganda, which is apparently working very well. Particularly aimed at Ugandan woman farmers, Adaptive Collaborative Management (ACM) "is an approach whereby stakeholders who share an interest in a common natural resource agree to act together to plan, observe and draw lessons from the implementation of their plans. It is characterized by conscious efforts among such groups to collaborate, resolve conflicts, and seek opportunities to learn collectively about the impacts of their actions." This sounds like something that could work in Jamaica, does it not?
The event up in the hills of Content Gap is not, of course, just about water. Food security is becoming an increasingly pressing issue. With climate change, "unseasonal" seasons, and the droughts and floods persistently disrupt and damage our agriculture. This is perhaps especially true in our mountainous areas, which are so prone to landslides and vulnerable to storms. I understand that most of the trees to be planted this week in Content Gap will be fruit trees. So, this will be a "multi-purpose" activity: providing food when the trees begin to bear (and perhaps helping create a new cottage industry later down the line); helping to anchor the steep mountainsides, preventing soil erosion; and of course mitigating the effects of climate change and drought by providing water. It is a winner all round. I hope also that some slower-growing native trees will be planted. We need to encourage biodiversity in this way, too, because that benefits us all.
It will be enjoyable and instructive, up in the mountains. We city dwellers will get a morning full of fresh air and exercise. Much more importantly, I would like to congratulate NEPA on their ongoing (and often unrecognized) efforts to educate and sensitize Jamaicans across the island on a range of issues – with limited resources.
Let the tree-planting begin!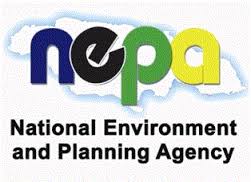 Tags: agriculture, agroforestry, Content Gap, deforestation, food security, fruit trees, Global Environment Facility, mountains, National Environment and Planning Agency, NEPA, St. Andrew, sustainable development, tree planting, trees, Uganda, water resource management, watershed, Yallahs and Hope River Watershed Management Areas Project