May 31st, 2017
The "C-word" is back in the news again this week, after the Caribbean Policy Research Institute (CaPRI) and National Integrity Action (NIA) held a Monday evening forum, highlighting the results of CaPRI's latest research and hammering on about the same old issues that never seem to go away. Where are the solutions?
There we are. I said it, just like so many others have done. Same old problems; a couple of tiny glimmers of hope on the horizon; a "wha' fi do?" attitude – a shrug of the shoulder. It's too big for us; we can't handle it. It's a politician problem.
Someone used the word "apathy" to describe Jamaicans' attitude to corruption. However, I myself don't subscribe to that, and I do think many Jamaicans actually are very concerned. I would describe it as a kind of malaise, if you will. We are not happy with the situation; but we don't feel empowered to tackle it, even at the level of our everyday lives. When yet another "big man" is acquitted in court, the cynicism and suppressed anger among the general public is real.
I receive daily email updates from the Los Angeles Times. Literally every week there is a breaking news item, about a local official (often elected) – perhaps a lawyer, someone in law enforcement, someone who handles funds – who has transgressed and has been charged for some form of corruption. Whistleblowers speak out; currently, a district attorney and other officials are accused of interfering in multiple investigations and covered up criminal conduct by police.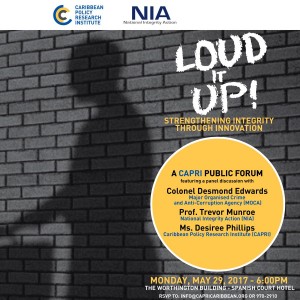 And so, at the CaPRI/NIA forum, NIA head Professor Trevor Munroe put his finger on the main sticking point: No one in "high places" is ever prosecuted for corruption in Jamaica. Not ever! And it's not a "developing country" thing – other countries such as Pakistan, India, Argentina and elsewhere are holding their public officials accountable, and tightening their systems to deal with corruption. For many years, the International Narcotics Control Strategy Report (INCSR) of the U.S. State Department has repeatedly referred to corruption in law enforcement; this year is no exception. They must get tired of repeating themselves, year after year. In the section on Money Laundering for Jamaica, the INCSR notes: "Political and public corruption both generate and facilitate illicit funds and activity." The report also refers to "the inability of lawmakers to adopt meaningful legislation to combat corruption." Inability!
Meanwhile, NIA works hard. It is out and about each and every week, in communities and in churches reaching out to youth, partnering with civil society organisations (such as the Nannyville Uprising Youth Club, last week), spreading information and awareness. And the awareness is growing. At the CaPRI forum, Dr. Damien King noted:"Jamaica has a strong emerging civil society framework, which is something we need to celebrate."
So, perhaps it is largely our leaders who are paralysed in the face of corruption. We are waiting for them to make the next move – to show that they are serious about corruption. Should we wait indefinitely? Perhaps a groundswell below is really what is needed. Look at Guatemala, Brazil and elsewhere in recent times.
But I would suggest that it's not a question of attitude or "culture" so much as it is putting the right systems in place. This requires a lot of hard, detailed work…and political will. Jamaican public officials are not, by nature, any more corrupt than the LA law enforcement officers who get into trouble, for example. It's just that they don't get prosecuted, let alone convicted. Worryingly, too there is a growing public perception that the judicial system itself is corrupt – especially in light of recent acquittals.
I just mentioned political will. Now, that's something that comes and goes. Now you see it – now you don't.
In an opinion column in the Sunday Gleaner Professor Munroe quoted an Organisation of American States (OAS) Peer Review of Jamaica, in accordance with the Inter-American Convention Against Corruption, which observed in its final report of 2014: "that the country … should consider addressing the lack of prosecutions or actions undertaken by the Office of the DPP, whether it is an issue of priorities or resources."
Now, there's a good question. Is it simply that corruption is not high priority among the "higher ups" in society? After all, we don't want to stir things up too much, do we? We might be opening a can of worms.
Perhaps it's time to open that can, however unpleasant the contents might be.
Tags: CaPRI, Caribbean Policy Research Institute, civil society, corruption, Damien King, INCSR, International Narcotics Control Strategy Report, Los Angeles, money laundering, Nannyville Uprising Youth Club, National Integrity Action, NIA, OAS, Organisation of American States, Professor Trevor Munroe, U.S. State Department, United States