November 9th, 2017
It's not very often that women get to share their personal stories of challenge, success and growth in a large room filled with other women (and a sprinkling of men). However, A. Cecile Watson of Gr8Way Consulting spectacularly made this happen on November 8 at the Terra Nova Hotel on Women's Entrepreneurship Day. The theme was Empower, Celebrate and Support: Women in Business to Alleviate Poverty.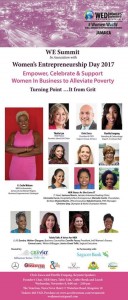 For Michelle Smith, founder of Chocolate Dreams, "grit" means survival. She described her journey as an entrepreneur as "a battle against self," at times. In a sense, entrepreneurship can be a lonely journey; you must examine your own motivations and goals – and face your fears. Oh, and face those who perhaps do not wish you well. "I found my own personal sisterhood," said Michelle Smith.
Christelle Harris, a hospitality and rum entrepreneur, also had an emotional journey. After a family crisis, "I had to break down how I felt," said Ms. Harris. Then, despite her lack of confidence and with inspiration from many self-help books, she began to realise that "everything is workout-able."  For her, taking action helped her overcome anxiety.
Santana Morris' story was especially moving. She had developmental challenges as a child and was often ridiculed at school. After struggling hard to overcome these obstacles, with her mother's support, she founded the Jamaica Intensive Reading Clinic. "Resilience" was what moved her forward.
Some of the women came across as surprisingly vulnerable at certain points in their career. When one woman spoke of a milestone on her road to success, the supportive audience clapped. Interestingly, the morning keynote speaker, London-based Flavilla Fongang – a branding entrepreneur with a fascinating French/African/British accent! – spoke of "emotion." It's a word men often use to describe professional women – they are too "emotional." Ah, but they do not realise – it is our hidden asset. There is nothing derogatory about that word.
I was one of four women gathered for a panel discussion, moderated by Cecile Watson, called Table Talk. The table was a splendid, solid chunk of wood – very organic, with a "pool of water" in which stones were sunk, and one edge burned black. I drew inspiration from it, and from the stories the other women told. They were the skilled communicator and experienced Business Counsellor Sandra Walter-Glasgow; the forthright Camille Facey, President of the International Women's Forum; and the down-to-earth Sagicor Executive Janice Grant Taffe. And then there was me – I called myself the "odd woman out" – with very little business experience apart from a few years in the City of London's merchant banking sector in the crazy 1980s.
What did I have to offer?  I wasn't quite prepared for personal storytelling. I had intended to speak more about alleviating poverty in the sense of being good employers who cared for their employees' welfare; the importance of women on boards, and more. However, after touching on an especially challenging period in my career, I spoke briefly about the importance of introspection (which some other speakers had also mentioned). Although I had no time to elaborate on it, I wanted to speak more about the combination of this intellectual power and "the power of the heart" – that is, the empathy and "emotion" that women know how to use. This combination has worked for me, and my writing. Embedded in this is training yourself to be observant, to pay attention.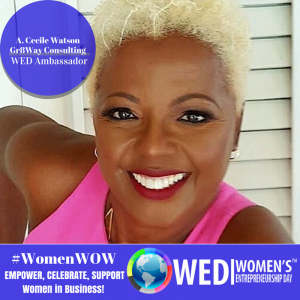 Congratulations to Cecile Watson. She was warm, relaxed and revelling in the event; yet I do recognise that it is – truly – hard work to put together an event of this magnitude. Yet, it seemed effortless; everything fell into place, and the women revelled in the celebration, along with Ms. Watson.
Kudos too, to Sagicor Bank, a major sponsor. CEO Chris Zacca bravely faced up to the 95 per cent female audience, and carried off his speech without sounding patronising. In the question and answer session, one audience member stood up and informed him, in no uncertain terms, that women would be watching and holding him to his commitment to women's empowerment. We need action, not words!
Meanwhile:
"I don't fail. I don't fail," insisted Sheree Martin, who rose rapidly at the Jamaica Public Service Company (JPSCo).
"I learn."
There was a great deal of learning going on yesterday. We can learn much from each other's stories, can't we?
Tags: branding, Camille Facey, Cecile Watson, Chocolate Dreams, Chris Zacca, Christelle Harris, entrepreneurs, Flavilla Fongang, gender equity, International Women's Forum, Jamaica, Jamaica Intensive Reading Clinic, Janice Grant Taffe, Kingston, marketing, Sagicor, Sagicor Bank, Sandra Walter-Glasgow, Santana Morris, Sheree Martin, Women's Entrepreneurship Day