July 8th, 2019
I was honoured and happy to speak at a recent event simply headlined "She Speaks." There were seven of us, brought together through the efforts of public relations consultant Antoinette Campbell. We were there to bring her concept into being, and it was exciting.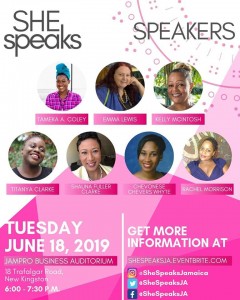 A Jamaica Gleaner report described the evening as the first in an "empowering lecture series." However, I don't feel that any of us were lecturing our audience. It felt like a series of TED Talks for Women. We were each passionate about what we did, and the messages we wanted to communicate. Mine was a sort of tribute to Jamaican women working in the field of climate change. Tameka Coley gave a heartfelt talk about her personal journey in mental health (she is the author of a book, Hard Gal Fi Dead); Blogger Kelly McIntosh gave an enthusiastic talk on nutrition and weight loss; Consultant Rachel Morrison gave a no-holds-barred talk on sexual health; Titanya Clarke focused on the enormous potential of e-learning; Shauna Fuller-Clarke talked about women's empowerment in the workplace; and Managing Director of Night Vision Media Chevonnese Chevers-Whyte wants more women to get involved in the business of animation. Kelli-Dawn Hamilton was our vivacious moderator.
In a short time, we all started to relax. Questions flowed from the audience, which included a number of supportive men as well as women of all ages and backgrounds. There were several things I enjoyed about the event:
It was unpretentious. There was no big production, no "razzamatazz," no musical interludes, no fancy sets. It was, simply, women speaking.
The speakers were remarkably diverse. All of us were from different backgrounds and age groups. The range of topics we covered was astounding.
Several of us regularly converse on social media and some were meeting for the first time. A number of audience members were also fellow tweeters, or Facebook or Instagram friends. The social media connections were delightful.
It was friendly. People actually listened, nodded, and no one made snide remarks or contradicted anyone.
We were learning from each other.
The audience was delightfully receptive. They laughed, "ooh'd" and "aah'd" and commented sotto voce, Jamaican style (which is not so quiet).
Male members of the audience also participated. Their presence was encouraging.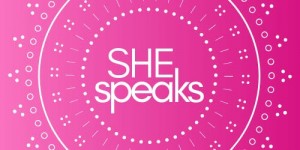 Afterward, there were pink and white cupcakes. Yes, the theme was pink, and I didn't have a problem with that. I have become rather fond of the colour in recent years. That glowing rose colour is not just the stereotypical "pink for a girl"; it is warm, accepting – and yes, to use that rather overworked phrase, it's empowering. It embraces.
We ended quite late (perhaps some of us spoke for a little too long!) and by the time refreshments were served, it is fair to say that we were all talked out. There was a feeling of satisfaction. We had covered a lot of ground, and we were replete.
She Speaks (Chapter One) was a promising start to what I hope will be an ongoing series. I believe there is more to come, according to Antoinette Campbell.
You can find them on social media (of course) on Facebook and on Instagram at SheSpeaksJamaica (where the event was live streaming). There's a lively Twitter presence @SheSpeaksJA. By the way, there is a lovely blog post here from one of the participants. She loved the cupcakes, too!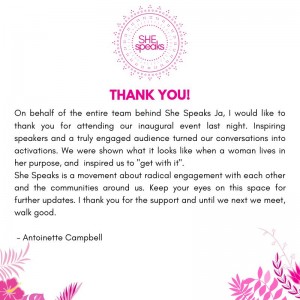 Tags: animation, Antoinette Campbell, Chevonnese Chevers-Whyte, Climate Change, e-learning, education, entrepreneurs, Facebook, Hard Gal Fi Dead, Instagram, Jamaica Gleaner, Kelli-Dawn Hamilton, Kelly Macintosh, mental health, Night Vision Media, nutrition, Rachel Morrison, sexual health, Shauna Fuller Clarke, She Speaks, social media, Tameka Coley, TED Talks, Titanya Clarke, Twitter