September 23rd, 2019
Air travel has become so commonplace that we take it for granted, these days. But as your plane touches down at your destination, do you ever wonder how much fuel it uses and what impact that has on our environment?
For some time, scientists have known that planes are indeed a contributor to greenhouse gas emissions – those various gases, including carbon dioxide, that we have become obsessed with in our battle against climate change. Emissions very much vary according to the size and type of aircraft, however, and there has been some uncertainty in the past over the exact scale of the issue. Recently, celebrities (and even "royals") have come under pressure for traveling in private jets, which are far less efficient than regular airliners.
The New York Times reported just a few days ago that air travel emissions are turning out to be considerably higher than at first predicted. The UN's International Civil Aviation Association had forecast that the volume of air travel will triple by 2045. The International Council on Clean Transportation has gone further, however, to suggest that it is increasing much faster. While air travel contributes an estimated 2.4 percent of emissions from fossil fuel use, these greenhouse gases have increased by 32 percent over the past five years, the Council claims. This is quite startling.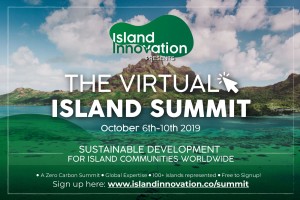 While there are many budget holiday packages and vacation trips nowadays, there are also business trips. And there are conferences, attended by hundreds and thousands of travelers, every day of every year around the world. Even climate change conferences!
There is one conference coming up soon, however, that we don't have to jump on a plane for. No tedious waiting in immigration lines and waiting for luggage, either. It is the Virtual Island Summit, which will take place from October 6 to 10…virtually. It was conceived by a young climate change activist and green entrepreneur, James Ellsmoor. He has a passion for islands and the environmental and energy issues currently impacting them. The theme is: Sustainable Development for Island Communities Worldwide. Over 100 islands will be represented and the goal of this free event is to "connect global islands and share common experiences through a digital platform."
There will be interactive sessions in different formats, and you will be able to interact with experts from around the world. Over fifty entrepreneurs, academics and civil society leaders will share their knowledge and experience. It won't be a "talk shop," but very much solutions-oriented, sharing best practices.
Zero carbon emissions, of course. Zero security checks. You don't have to take off your shoes.
The extraordinary activist Greta Thunberg sailed from Europe to the United States recently on a solar-powered yacht. She was making a point, of course. And she made us wonder: what is sustainable travel, these days?
And why can't we use technology to communicate in a more substantial way online? Great things can happen!
You can register for the Virtual Island Summit here: www.islandinnovation.co/summit Also, do subscribe to the Island Innovation newsletter  – which addresses highly relevant topics for our islands. The latest edition is headlined: What to Do With All That Trash?
Tags: air travel, Climate Change, entrepreneurs, fossil fuels, greenhouse gas emissions, Greta Thunberg, International Civil Aviation Association, International Council on Clean Transportation, island, Island Innovation, James Ellsmoor, NGO, Small Island Developing States, sustainable development, Technology, tourism, transportation, travel, United States, Virtual Island Summit