April 25th, 2020
Everything is connected, so they say. There is nothing more connected than the health of our planet and our own human health. I hope we may be starting to realize this, at last, with COVID-19.
I think we are seeing this more clearly, now that COVID-19 has been with us for several weeks. "Seeing clearly" literally, as it happens, in some parts of the world, where it seems a veil of pollution has been lifted. This is particularly noticeable in smog-ridden cities such as Delhi and Los Angeles. Of course – there are no vehicles on the road.
But why and how might COVID-19 be connected to air pollution? It has been a public health issue globally for a long while – including in Jamaica. Air pollution is a hidden killer of several million people around the world each year. Sometimes it is obvious – as when we see a hillside burning in a bush fire, or the dump at Riverton City smoking. In the past we have often spoken about something called "particulate matter" – extremely tiny particles (soot, dust, droplets etc) that we take into our lungs when we inhale. We cannot see these of course, but they impact our health – not only our lungs but our heart and other organs. Research is starting to suggest that these particles may actually carry the coronavirus. We shall see.
Although no direct link between air pollution and a high number of deaths from the virus has been proved (a recent Harvard University study suggests there is a link) we must pay attention to the fact that we may have created the toxic environment for it to thrive. Northern Italy, where the highest number of cases and deaths have been, is the most heavily industrialized part of the country. COVID-19 is especially dangerous for those with underlying health problems – including chronic issues such as asthma and heart disease. Air pollution exacerbates these conditions. Many of these could be our vulnerable senior citizens.
Air pollution in Jamaica exceeds the World Health Organization's (WHO) guidelines – this we already know. In poorer neighborhoods, air quality tends to be worse. Ironically, several years ago the community of Portmore was found to be suffering in particular (and now it has COVID-19). It may seem hopeless – climate change, industrial pollution and other factors that are way beyond our own control.
But we can do more to help ourselves.
As we have been saying repeatedly during the COVID-19 pandemic, as individuals we can do more to protect our health and the health of others. One of them is to stop open burning. This is harmful to everyone's health. A friend in western Jamaica tells me her neighbors think nothing of setting light to a pile of garbage or garden waste. Visibly large pieces of soot land in her yard: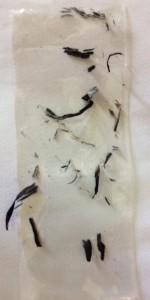 However, this regular practice seems to be overlooked by the police and local authorities. Enforcement is weak. In fact, workers employed by local authorities themselves, when asked to clean up or "bush" an area, often build bonfires as they go along. Even natural materials from the yard, if burned, do release harmful particles into the air. Sometimes, plastics get burned too, adding to the poisonous mix in the air we breathe. There is also the risk of fires getting out of control, especially in the hot and windy weather we are having now.
We have time to think on these matters – we are staying "a yaad" much more than previously, of course. So, why don't we drop some of our lazy, bad habits, and find alternatives?
Composting is an obvious (and easy) solution to the garden waste, which does not need to be burned. Nuh Dutty Up Jamaica last year launched a video tutorial – take a look at it here. Composting is not rocket science!
What of all the plastics you are collecting and cannot currently dispose of? Well, Recycling Partners of Jamaica is asking recyclers to store clean plastics until depots reopen – hopefully in mid-May. And, as should always be the case, try to cut down on plastic consumption in the home and buy products that are compostable.
COVID-19 makes us realize how precious every breath we take is to our health and wellbeing. It's a lesson that we need to keep re-learning – and do something about it. While taking action ourselves, let us put real pressure on our leaders to take air pollution seriously and put in place all the proper monitoring and enforcement systems.
We really don't want to choke to death.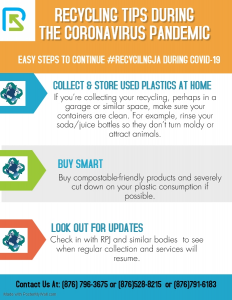 Tags: air pollution, composting, COVID-19, Nuh Dutty Up Jamaica, open burning, recycling, Recycling Partners of Jamaica, World Health Organization