Some of the hottest trends for Spring/Summer 2011 have been bold geometric prints, crocodile and snake prints.
I have to admit I've been wearing them all but in my own unique way

on the streets of Kingston and Montego Bay. I think there is definitely something for everyone within these two trends.
However, if you're not that comfortable wearing bold colours or a croc print then wear it as an accessory. Check out your local stores for bags, footwear and scarves.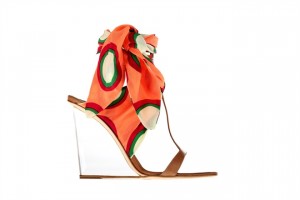 This silk and leather shoe is created by Cheap & Chic.
Below I have placed a few images of the latest trends for your perusal. However, my question to you is which prints fit you and why?
Bright and bold geometric print by Versus and crocodile leather dress by Altuzarra. I'd say are perfect for the fashion forward diva, that loves to make a statement.
The print dress by Lipsy London and jersey snake print created by Thakoon are great for all you yummy mummys.
Edgy, rock, chic are the words that come to mind when I look at Marni's bold, colourful trousers, Shiatzy Chen's short and sexy geometric dress, followed by Zadig Voltaire's jeans shorts.
Yes your absolutely right some of these gorgeous creations can fit into numerous categories.
So which one of the following garments fit your personality and why? Come on share what trend you've been rocking this summer. Send in your photo's I'll post them

I will be on my travels a little later today. So stay tuned for my coverage of the Notting Hill Carnival, European fashion updates and art events. Remember you can also follow me on twitter @qvdesigns or join me on facebook
Talk soon
Shaz
P.S. All the photographs are courtesy of vogue.it.com
Walk Good.
Tags: Altuzarra, Cheap & Chic, Lipsy London, Marni, Shiatzy Chen, Thakoon, Versus, Zadig Voltaire