Hey fashionistas,
No doubt like me you've been keeping a close eye on the Miss World 2010 competition, in Sanya, China.  Although the competition culminates on October 30, 2010, a number of  other competitions have already taken place that fast track the winners to the semi finals.  Unfortunately Miss Jamaica World, Chantal Raymond was not selected.
The three fast-track winners, are Miss Puerto Rico, Beach Beauty; Miss Northern Ireland, Sports Beauty, and Miss Norway, Top Model. They will be accompanied by the host nation's representative Miss China. Below are photographs of the semi-finalists:).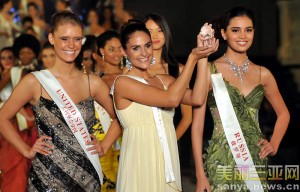 In this photograph courtesy of sanya.news.cn we have the winner of the Top Model contest, Miss Norway (centre).  She is accompanied by competition runners up  Miss USA (left) and Miss Russia.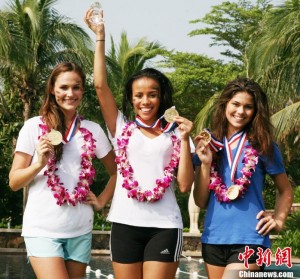 In this photograph courtesy of chinanews.com you can see the winner of the Miss Sports Beauty competition Miss Northern Ireland (centre).  She is flanked by Miss Slovakia second place contestant (left) and Miss Norway.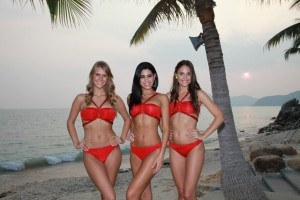 In this photography courtesy of globalbeauties.com we see the winner of the  Miss Beach Beauty competition Miss  Peurto Rico (centre).    She is accompanied by Miss USA (left) and Miss Norway, second and third place contestants respectively
Miss Norway seems to be doing well!   Doesn't she…. Hmmm.  She has placed well in all three of the  fast track competitions…closely followed by Miss USA...who placed in the top three for two of the competitions.  Which in the words of Meatloaf "Two out of Three Ain't Bad…" is it?
Have they taken the lead from Miss Brazil?
Now I know from previous discussions, Miss Jamaica and Miss China are not very popular with you.  However,Miss Brazil is…. Do you think she can make it? Or is their another beauty to watch?  Whose your favourite to win? And Why?
A lot of you have shared with me in other blog posts, emails and via twitter (www.twitter.com/qvdesigns ), I'd love you to get the discussion rolling here…I promise I will jump in with my opinions

.
*Oh yes, for the uninitiated Meatloaf is a male singer who had a number of successful songs  starting in late the  1970s.  Its a cool song which you can check out on youtube…  or your parents record collection.
Talk soon
Shaz