This week I  find myself asking the question, Is there an obsession with  Michelle Obama's 'arms'? Michelle O's decision to wear sleeveless dresses and gowns to formal events,  and in her official White House portrait  has created quite a  stir across the globe…What's your take on it?….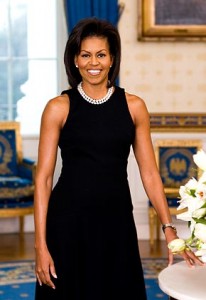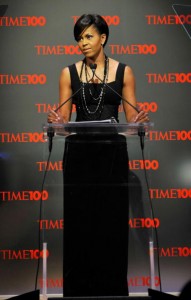 Pictured above left: Michelle is wearing a Michael Kors gown for her formal White House portrait (www.thehollywoodgossip.com).  She is pictured right in a Michael Kors dress and Peter Soronen corset which she wore to the Time 100 event recently (www.mrs-o.org). Photo by Kevin Mazur/WireImage for Time Inc.
Does she have a flawless fashion style that  transcends her role?….  Should she be able to wear what she wants?…. Or is she committing a First Lady faux-pas by not dressing appropriately for the business at hand?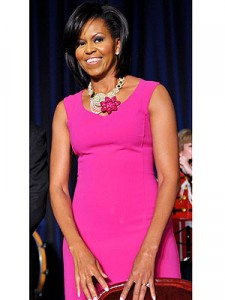 Michelle O'is pictured above in a hot pink sheath dress by Michael Kors at the White House Correspondence Dinner. Photo by AFP/Getty Images (www.stylenews.peoplestylewatch.com).
When Donatella Versace saw Michelle O' in the outfit above she said,  'The First Lady looked beautiful. It was so great to see a President's wife in a hot pink dress, a jewelled necklace with a pink flower and purple eye shadow. Great hair, great make-up — this is what we want to see – confidence'. Is it?
So let's hear from you is she a fashion forward First Lady affecting the stuffy world of politics in a positive way ? Or a fashion flop of a First Lady with no head for politics?…
Lady P's Versace jeans suit caused great debate, which is still raging…when she wore it to Parliament.  Is Michelle O' dress sense in any way comparable to Lady P's decision or not?
Lets have your comments….
Shaz