On the red carpet at the 66th Golden Globes not only did we see some amazing gowns, hair, make-up and accessories (and some not so amazing). But we also saw a relatively new embellishment for the red carpet, tattoos.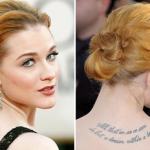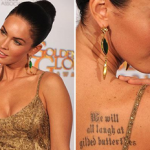 Evan Rachel Woods tattoo are the words of Edgar Allen Poe. "All that we see or seem is but a dream within a dream". Although the font is very feminine and elegant I'm not liking the size of the font or the location of this one.
Picture:EPA  www.telegraph.co.uk
Megan Fox's tattoo says "we will all laugh at gilded butterflies". I'm liking the words and location, but not feeling the font selection or size.
Picture: AFP/GETTY www.telegraph.co.uk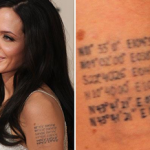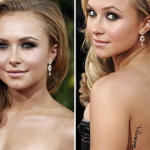 Angelina Jolie has a number of tattoos as I'm sure you know. But this one is quite interesting. It's the map co-ordinates for her children s places of birth. Quite sweet really.
Picture: AFP/GETTY www.telegraph.co.uk
Hayden Panettiere's tattoo "Vivere Memento" meaning "Remember to live" looks fab! Loving the font, the size, location and of course the message!
Picture:AP  www.telegraph.co.uk
Do you love them or hate them? Should they be covered up with make-up for red carpet events? Or do you think they look fab with a gown & up-do?
Log in with your opinions fashionista's. Later Shazz