Let's face it, consumers could really use some good news.  The fact is that going shopping is a daunting task when we are faced with the rising cost of living.
Many of us feel the brunt of trying to stretch the dollar as we try to pay all our bills and so make less trips to shop for non essential items.
So what can put a smile on your face?  I think that these words, 'Closing down sale' always make me happy to shop. Bargain hunting is my new hobby as I scour the island trying to find good deals.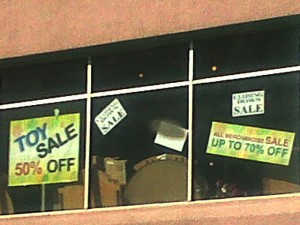 Of course, it's sad to lose the business that is being forced to close its doors but I can certainly appreciate being given a huge discounts on selected items.
I found one such sale at Dollar King owned and operated by the Khemlani group of companies, located in Manor Centre.  They have heavily advertised that Dollar King is having a 50% sale on selected items while Lord and Lady, located in the same plaza showcases a 70% sale on selected items.
So is it worth it?
Some of the items displayed at Dollar King seemed to be very old stock.  Some of the toys had defective or missing parts and some of the colouring books were damaged.   However, the appliances and furniture items appeared to be in good condition.  One furniture set was being advertised for $15,000.  They also had household items as well as school lunch bags and stationery items on sale.
I bought a lunch bag for $400 and a toy for my son (with only a few missing parts which he loved) for $250.  I thought they were a good bargain as the same lunch bag retailed for $800 in other stores.  I suppose you would have to decide if the items on sale meet your needs but it's worth a visit.
So while shopping right now is a bit depressing maybe saving a few bucks will put the bounce back in your step!  Let me hear how your bargain hunting is going!!
Teri Ann Renee Paisley, Gleaner Online Writer