Author :
cmunroe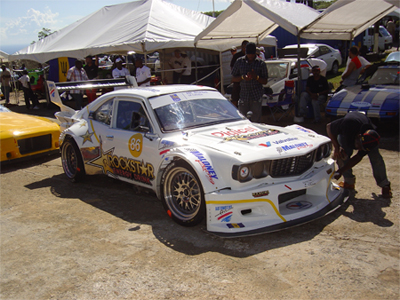 Politics is the art of making decisions in light of conflicting interests. Anarchy is only a decision away! Labour Day in Jamaica, is usually marked by feats of industry across our fair isle, but this time around, all activities were displaced by the war which was being waged by the security forces against gun toting hoodlums who were determined to reduce the state to ashes.
Circuit racing competitors from the capital city were directly affected and the fans (from Kingston and its environs) who were bold enough to venture out, spent a part of race-day engulfed in fear, when it was revealed that attempts were being made to block routes into the city!
Despite the flames of unrest torching the city, a Reggae Sumfest sized crowd was present at Dover to support Team Jamaica.
All eyes were focused on the CMRC races. Defending CMRC driver's champion, David Summerbell Jr. won all three races! He shook off a determined effort from Mark Maloney (Barbados) in race 1. Maloney's RX-3 spun at the Pepsi hairpin in race 2 and as such did not finish, making it easy for Summerbell, who continued his winning ways and ran away with race 3.
I am a patriot, but, I make no apology for saying that Mark Maloney's RX-3 (from Barbados), is the quintessential race car. A 'true' race car should have a ferocious sound, an intimidating look and incomprehensible speed. Trust me, this car is the real deal and it is naturally aspirated!
I revisited the CMRC races on Youtube and Race 1 revealed the venomous sting of the man and his machine. Mark Maloney is a beast behind the wheel and he drives like the monetary value of his inheritance is dependent on victory. Summerbell even admitted that he was surprised by Mark's pace and performance.
Round 1 of the CMRC lived up to its billing. Team Jamaica did well, despite the 'politics' which led to Doug Gore scoring zero points. Our assault on Bushy Park, Barbados is next!
Cecil Munroe Gleaner On-Line