March 31st, 2015
As we all know, sports is woven tightly into the fabric of Jamaican society. Some Jamaicans live and breathe the stuff. Isn't it a component of "Brand Jamaica"?
When it comes to "Champs" (the Inter-Secondary Schools Sports Association/ISSA Championships) as it's affectionately called, passions run high. It's the largest high school track and field meet in the world, I believe. I am setting aside all the to-do about Digicel's "ambush" of a record-breaking young sprinter (Hey, marketing is marketing. Welcome to the real world!) But a couple of things struck me about the display of impressive athleticism at the National Stadium over four warm, dry and windy days in Kingston. And it's not for the first time that I have noticed.
Firstly, the major emphasis in traditional and social media – and public commentary overall – has been on the male athletes. Now, I understand that Boys' Champs has a much longer history than the girls' competition. Our colonial masters decided the girls were worthy of competing in 1963, after several false starts (no pun intended) – thanks to the founding of an organization called the Games Mistresses Association in that year. How wonderfully that name conjures up an image of my very own games mistress, who filled my heart with fear (I was generally a timid sportswoman at school, and made huge efforts to avoid gym classes). So Girls' Champs struggled to its feet in 1957 (St. Hilda's High School won) and merged with Boys' Champs in 1999.
Yet the recent domination of the "school on Red Hills Road" (Calabar High School) and its competitors continues. I live not far from the National Stadium, and it was clear that support for the boys was louder, more aggressive and energetic. I saw schoolboys in overcrowded buses leaning out of the windows, shouting and waving flags (by the way, the boys' schools have many female supporters too, perhaps at the expense of their own schools – much to the chagrin of one local sports commentator).
Color is important, too: the purple of Kingston College, the gold and crimson of Wolmer's, and so on. This reminds me of partisan supporters at election time: "Labourites" dye their hair green and "Comrade" supporters of the People's National Party are in orange from top to toe. The wild (and illegal?) display of tribalism is reminiscent, too, of (mostly male) supporters of our political parties heading for party conferences in the same location. Well, they learn from their elders, don't they; but it's not a good look. Enthusiasm is one thing. Hooliganism is another.
Meanwhile, a chorus of Latin phrases (school mottos such as "Floreat collegium, Opus fervent in campis!" "Age Quod Agis" etc) hit social media over the weekend (Calabar High School, by the way, was the first school with a motto in English). There was much "dissing" of each others' schools. This Old Boys' obsession is, no doubt, a throwback to the colonial era when the "traditional" high schools were founded. And they do have their proud traditions, enthusiastically carried forward by the students.
So where are the girls in all of this? They are at least partially submerged by the testosterone-laden antics of their male counterparts. They train equally hard. They compete. They break records. They have their mottos, too. And yet, why do I get the distinct feeling that the girls are sidelined, that the vuvuzelas don't blare so loudly for them? (I detest vuvuzelas, by the way, but one has to endure them at Jamaican sporting events, even if nowhere else in the world these days). The girls just have to keep plugging away. They have plenty of role models: Shelly-Ann Fraser-Pryce, Veronica Campbell, and others have covered themselves in glory internationally. One of my personal favorites was always the marvelous Merlene Ottey – who has had quite a bit of negative press in Jamaica, I believe undeservedly so. But she was a true pioneer.
So, it's pretty well established that the boys' traditional high schools are the élite of Jamaican sports. With their Old Boys' Clubs and their Lodges, they consider themselves the élite in many other spheres of Jamaican life. No surprises, there. Professor Carolyn Cooper did a terrific demolition job on this patriarchy in a "Gleaner" column not too long ago; it offended some, but to my mind touched on a little-discussed aspect of Jamaican society, albeit in a wildly satirical manner. This is a "mutual admiration society" – if I may say, perpetuated by institutions like Boys' Champs.
I want to touch on another aspect of Champs – and that is, the clear marginalization of rural (or even semi-rural) schools, which are co-educational. Of course, we are talking about Girls' Champs now. Edwin Allen High School left the competition in the dust in 2015, for the fourth consecutive year. But…where is Edwin Allen High School? Clarendon? Oh. Who was Edwin Allen, anyway? Mr. Allen served as Education Minister from 1962-1972. The school celebrated its fiftieth anniversary last year; yes, it too has a tradition. Other Girls' Champions have been mostly rural schools, although St. Jago High School in Spanish Town and Excelsior High in Kingston are "city" schools. St. Jago had a good spell in the 1990s and came a rather distant second this year. Then there are the rural Vere and Holmwood Technical High Schools, both of which have had long dominant spells. Manchester, St. Mary, Manning's and Titchfield. Well – OK, The Queen's School and St. Andrew High (both all-girls' schools in Kingston) won once each. But you get my drift.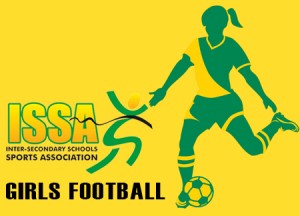 Meanwhile, I am hoping for more support for women's football in Jamaica. And although netball is a somewhat obscure sport in the global arena, I applaud our hard-working "Sunshine Girls" and hope for more support for them, too.
We can't let the traditional school tribes have it all their own way, can we?
Tags: Ayesha Champagnie, Boys' and Girls' Champs, Calabar High School, Carolyn Cooper, Digicel, Edwin Allen High School, Games Mistresses Association, Inter-Secondary Schools Sports Association, ISSA, Jamaica, Kingston, Merlene Ottey, Michael O'Hara, patriarchy, Shelly-Ann Fraser-Pryce, St Andrew Technical High School, traditional high schools