March 25th, 2015
Yesterday (March 22) was World Water Day. In years gone by, this might have seemed like just another of those "special days." It might have been greeted with a shrug. Water? Why worry about water? Well, in 2015 I think we are taking water a lot more seriously. The Jamaican media love to call it "the precious commodity." And, indeed, it is becoming more and more precious to us all.
Water is by no means a "Third World Problem." In light of climate change, environmental destruction and growing demands on our planet's resources, it is overwhelmingly a global issue. Just three days ago, a group of protesters gathered outside the offices of Nestlé. They were angry, accusing the multinational corporation of bottling water and shipping it out of their city. Where did this happen? In the city of Sacramento, in the state of California, USA – where some say water supplies may run out by 2016. Nestlé is currently the leading supplier of the world's bottled water and has reportedly been taking up to 80 million gallons a year from local aquifers, while the city dwellers suffer severe restrictions on water use.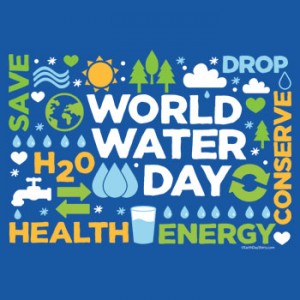 In many nations, developed or developing, water (or the lack of it) has a profound impact on our cities. The UN tells us that every week, one million people move into cities across the world. At the recent United Nations Environment Program (UNEP) Caribbean Conference on the Green Economy in Kingston, Professor Anthony Clayton pointed to the future trend of growing urbanization; to survive, the cities of the future will have to become self-sufficient, conserving and producing their own water, energy and food, Professor Clayton observed.
In Jamaica, we hear many stories about water challenges in rural parts of the island – especially in our agricultural production areas. We hear much less about water in the cities. Half the people on the planet are city dwellers – and this largely applies to Jamaica, too – and numbers are likely to grow. In our hemisphere again, Brazil's prosperous mega-city São Paulo (with a population of around 2o million) is still suffering from "hydric collapse" after an unprecedented drought. But this is not just due to climate change and the steadily drying climate of the tropics, although that is an exacerbating factor. As in Jamaica, it is about the rapid unplanned growth of the city, including many informal settlements; and poor management. São Paulo's state government has been hesitating over water rations: two days of water, then four days without . For a country which – like Jamaica – prides itself on its abundance of water, this is quite a culture shock. And,  some of our government officials, São Paulo's leaders seem unwilling to declare a public emergency – although it is. Sound familiar?
But it's not only the shortage of water that is worrying; quality is also important. It would certainly help if we cleaned up our environment. Even with the current crisis over the unprecedented fire at the Riverton City dump (it is not/not a "landfill"!) it is quite likely that harmful chemicals have entered the soil and underground water. This will affect our food and drinking water supplies. I wrote about "greening" our cities in an earlier blog post. That would help too.
We need to start conserving – now – in homes, offices and factories. And our planners and decision-makers need to do some creative thinking on water. We need to manage our water supplies carefully – and strategically.
So. The answer is to build sustainable cities  – or re-design them accordingly. How do we do this?
Here is what we do in our Kingston home. I know we could do so much more, but it's a start. And it means lower water bills…
Channel the "grey water" from our bathroom onto the bed of ginger lilies and the highly nutritious moringa trees in the yard.
Channel the "grey water" from our washing machine onto the yard. As a result, a young pear tree is now producing baby fruit for the first time!
Save rain water from a major channel on the roof and two other gutters in a large tub and two smaller ones. We use the water to water flower pots and for other outdoor domestic purposes. (Making sure containers are well covered, to avoid mosquitoes breeding!)
Installed low-flush toilets – they are not particularly expensive.
Installed a low-flow shower head. Showers use less water than baths, obviously.
Checked for leaky pipes (and found one or two!)
Ideally, we would like to redesign our home to be much more environmentally friendly than it now is – it's rather an old house. We would like to save all our rainwater through a proper guttering system. All new houses should be designed with water-saving components as a standard!
Last year, as I vividly recall, we had a summer-long drought. There was much doom and gloom, and our old and inefficient reservoirs nearly ran dry. Then, the crisis was over. The rains came, we relaxed and enjoyed the winter months.But what has happened regarding the de-silting of our reservoirs, and other measures and solutions discussed after last year's drought?
I hate to be a prophet of doom, but have to say: The water crisis is not over – not in Kingston, not in São Paulo, not in Sacramento. The immediate emergency situation may have gone, but the long-term one has only just begun. We have to act, now – or we will be fighting in the streets, and perhaps across borders, over water supplies. There will be "water refugees" before long. I know, I am being a little dramatic. But these scenarios might just happen, unless we get our act together.
You never miss your water till your well runs dry. Well, our bucket is going to that well too often.
Tags: Brazil, California, Caribbean Green Economy Initiative, cities, Climate Change, conservation, drought, Jamaica, Kingston, reservoir, Riverton City, Sao Paulo, United Nations, United Nations Environment Programme, urban living, water resource management, World Water Day