May 4th, 2016
World Press Freedom Day (May 3) came and went with barely a ripple in Jamaica. The Press Association of Jamaica (PAJ) issued a statement, which addressed a current shopping list of concerns among local media practitioners. These concerns are by no means slight – an inadequate Access to Information, and the anachronistic Official Secrets Act, are still hanging around, waiting to be dealt with. There seems little political will to fix the legislation and get rid of the Official Secrets Act; politicians still seem keen to hang on to some of these relics of the colonial era. In general, however, the Jamaican public seems blissfully unaware of challenges to press freedom, and freedom of expression, in our hemisphere and around the world. In particular, we seem to take the broadest and freest of all expressions, social media, for granted.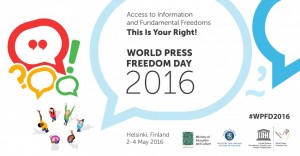 Of course, the traditional journalist does not regard social media as "media" in the strictest sense of the word. It is a different animal – basically a glorious "free for all." However, it has an irrefutable link with traditional media, which has to have a strong online presence these days to survive. I don't remember when I last bought a "hard copy" newspaper, myself. Jamaicans, once online and on their smartphones, have taken to social media like ducks to water. I would have to consult with my guru Dr. Marcia Forbes to confirm this, but I believe close to half the Jamaican population is now on Facebook. My personal social media platform of choice, Twitter, has its own flourishing Jamaican community, which a former government Minister once referred to as "The Articulate Minority." It's a label that many in the Jamaican Twitterverse wear with pride. Most leading journalists – in particular those in broadcast media – have a Twitter presence, or at least monitor what's happening in that fast-moving medium. For public figures, including politicians, social media is a useful tool to gauge "the mood of the people," especially on hot-button issues.
As noted above, however, Jamaica is fortunate. In several countries in the world – including in the Western Hemisphere – governments have tightened their grip on the media. They appear to be particularly concerned with social media, and that includes bloggers like myself. What are they so afraid of? RSF lists twelve global leaders on its website that would be celebrating "a great year for censorship." Only one of them, Nicolás Maduro of Venezuela, is in our region; can you guess the others? The Cuban independent media is still under pressure, too; hopefully, as the country opens up economically, this unnecessary political grip will also loosen. Organized crime takes its toll on investigative journalists looking into drug trafficking and corruption. Mexico, Honduras and Brazil (which has been steadily slipping in the World Press Freedom Index) are the most dangerous places in the region for journalists.
This growing paranoia does not only apply to traditional media. A regional judge in Brazil recently had the WhatsApp platform completely shut down – for the second time – for 72 hours, affecting 100 million users. This was for failing to turn over data connected to an ongoing drug trafficking case. After an appeal by its owner, Facebook, it has now been reinstated. Turkey regularly blocks social media websites, especially after terrorist attacks. There were angry protests in Uganda in February, after President Yoweri Museveni – seeking a fifth term after 30 years in power – shut down social media prior to general elections, calling it a "security measure to avert lies." Social media users circumvented the ban by using a virtual private network (VPN). By contrast, earlier this year Jamaican Twitter and Facebook were buzzing with pre-election commentary.
There are many more examples. What is perhaps especially concerning, however, is when individuals are targeted, threatened, harassed and sometimes killed. In some parts of the world, the blogger is an endangered species. In Bangladesh religious fanatics have been engaged in a murderous campaign against secular bloggers, with several being hacked to death (including a university professor) since last year. The police have failed, so far, in their duty to protect them. In Ethiopia, the Zone 9 bloggers (a group who maintain a blog in Amharic) were arrested and imprisoned on terrorism charges in 2014. Four remain behind bars. Their crime? Writing about human rights (including the country's many political prisoners), governance issues, education, social justice and corruption, among other issues. These are touchy subjects for authoritarian regimes.
Nevertheless, I am happy to say that the Jamaican "blogosphere" is growing – albeit very slowly, compared to the rapid spread of social media. In this area, Jamaica might consider following in the footsteps of Kenya, where a flourishing bloggers community exists under the umbrella of the Bloggers Association of Kenya (BAKE), formed in 2011. They organize a well-sponsored Blog Award, a Bloggers Camp, carry out digital training and have regional chapters (well, it's a huge country).
So, Jamaica is ranked at number ten this year in RSF's World Press Freedom Index. This is quite admirable, although for some reason we have slipped from ninth last year. We should be pleased with ourselves, but we should not rest on our laurels. I hope the PAJ will remain vigilant, and will continue to press for much-needed changes in the media landscape, in the coming year.
Meanwhile – cheers to the Fourth Estate, and long may it flourish!
Tags: Access to Information Act, Bangladesh, bloggers, Bloggers Association of Kenya, Brazil, censorship, Cuba, Ethiopia, Facebook, Honduras, human rights, Jamaica, journalism, Kenya, Mexico, Official Secrets Act, organized crime, PAJ, Press Association of Jamaica, press freedom, Reporters Without Borders, social media, Technology, Turkey, Twitter, Uganda, Venezuela, WhatsApp, World Press Freedom Day