March 31st, 2018
I love my city of Kingston. I have my favourite spots, that I always enjoy.
One of these is that little corner on the intersection of Old Hope Road and Lady Musgrave Road. A small church (the "Babbins Church," founded in 1900 by Rev. Francis Bavin of the United Free Methodists) nestled there comfortably for 88 years, until Hurricane Gilbert roared across the city. It was badly damaged, then demolished. Subsequently, a little garden of sorts was established, and there is a small monument noting the existence of the church. Several lignum vitae trees of various ages fringed this cozy corner. A vendor or two set up shop in the cool shade of the lignum vitae. I sneaked a photo of the young Rastafarian under the largest tree, who kept his area spotless, playing his guitar and singing.
The vendor's neat little shop, selling fresh eggs and juices, is no longer there, I noticed recently. I should have taken this as a bad sign.
So, this morning, on a calm and happy Easter weekend, I glanced through my tweets. I froze. The first one I read noted that the lignum vitae trees were being cut down by a man (already surrounded by piles of branches). Immediately, questions started up on social media. Who did this? Who is responsible? Are lignum vitae trees protected under Jamaican law (we are not quite clear on this)? Why was this done? What happened to the precious hardwood after the trees were cut? The Town Clerk at the Kingston & St. Andrew Municipal Corporation has promised to investigate. I look forward to hearing from him.
Will the last large, beautiful lignum vitae (the only one left standing), where the young man used to play his guitar, survive the Easter holiday?
This act of destruction is simply one more example of the steady deforestation of Kingston – despite the talk of sustainability and other popular catch-phrases. It simply happens, as it were, overnight. One day a tree or group of trees is there – the next day, gone. No information, no warning, no notice. The large trees fringing the Constant Spring Golf Course are gone. In the hills surrounding the city, in areas like Sterling Castle, trees are falling almost on a daily basis. On Oxford Road in New Kingston, the old house that was the former Christian Boys' Home is being steadily demolished, and I understand that the Woman's Tongue and other trees on the property are also set for destruction along with the old colonial building. There is also the question of preserving our built heritage, alongside the trees.
The so-called "Golden Triangle" (and all around the Liguanea area) is an increasingly bleak landscape of townhouse and apartment complexes, painted in shades of taupe and cream, each with small windows, a guard at the gate, a pretentious name inscribed on a wall…and almost no trees. There is no attempt to preserve the existing trees, and the extent of the "greening" is a few wilting palm trees. Sometimes, ironically, the complexes are named after trees that no longer exist. Even fruit trees are not exempt, although perhaps more likely to survive the chainsaw. Many lignum vitae trees, to my knowledge, have been steadily removed in the Golden Triangle area. Trees are also virtually never replaced or replanted. They are expendable, simply in the way.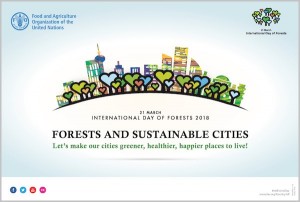 The irony of it all! We just celebrated International Day of Forests on March 21. This year's Forest Forum was excellent, with the dedicated and highly competent team led by Conservator of Forests Marilyn Headley making illuminating presentations. It was very well attended by many representatives of Government agencies and ministries. This year's theme? Forests and Sustainable Cities. Having just proudly hosted the Food and Agriculture Organisation's (FAO) Regional Conference for Latin America and the Caribbean, Jamaica seems not to be putting its goals into practice in this area, in any meaningful way.
Let's take a quick run through the main reasons why urban forests are important (a tree, a small group of trees, a park, a back yard):
They store carbon, which helps reduce our climate change emissions;
A tree-filled garden, rather than concrete, cools our surroundings by a degree or two, especially in our increasingly hot summers;
They filter the air, reducing the air pollution from which many of us suffer in Kingston;
They reduce noise pollution;
Trees surrounding the city help protect watersheds and reduce flooding down in the city below;
They promote biodiversity – birds, insects, etc. – like the clouds of white butterflies that we enjoy from the lignum vitae trees;
They beautify the city, making it more attractive to tourists and visitors, who don't enjoy acres of concrete;
Last, but by no means least, green spaces provide shade, comfort, pleasure and relaxation for city dwellers. Simply put, we know we feel healthier and happier around trees! Also, trees have been proven to reduce stress and can therefore lead to a reduction in crime and violence… Had you thought about that?
Please – don't get me wrong. I am personally not against development. I am for proper planning. I do not disagree with the Prime Minister's recent announcement that more use should be made of urban areas (even going high rise) rather than sprawling suburbs and soulless housing developments built on agricultural land. It makes sense, to me. But I am for making space for green space. Careful planning can create a sustainable city – not a "concrete jungle."
In Jamaica this is not just an urban phenomenon. There is a favourite birding trail in Portland – Ecclesdown Road, in the hills – where in the past year almost every tree close to the road, large or small, has been cut down. This means less habitat for the birds that like to potter around and feed along roadsides and the forest's edge. As the canopy had gone, we saw fewer birds during a recent birding trip – and left disappointed and sad. Just as we were leaving, it was depressing to hear the sound of a chainsaw nearby, followed by the familiar cracking sound of a branch, broken and falling. Why?
The Forestry Department of Jamaica – which celebrates its 80th anniversary this year – certainly has its work cut out.
Please support them in any way you can. And, for heaven's sake, plant a tree today!
Tags: air quality, Babbins Church, birds, Christian Boys' Home, Climate Change, Constant Spring Golf Course, deforestation, Ecclesdown Road, FAO, Food and Agriculture Organisation, Forestry Department, greenhouse gas emissions, housing development, Hurricane Gilbert, International Day of Forests, Jamaica, Kingston, Kingston & St Andrew Municipal Corporation, lignum vitae, Marilyn Headley, New Kingston, noise pollution, Portland, sustainable cities, sustainable development, tourism, Town Clerk, trees, Twitter, United Nations, urban forest, urban living, watershed