December 12th, 2019
Happy birthday, Global Voices!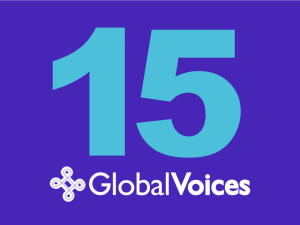 I am proud to be a contributor to Global Voices and a member of the "GV Family," which is now celebrating its fifteenth year.
What voices, and where, you might ask? Well, GV is an amazingly diverse network, a digital community populated by people you could sit down for hours and talk with and learn from. Their experience is varied and often extraordinary. They are bloggers like me, journalists, freelancers, activists, entrepreneurs, academics. Many of them are absolute heroes, standing up for democracy and human rights, from Venezuela to Ethiopia to the Philippines. All are working day to day to "make the world a better place" (a cliché, I know!) They are "netizens," and they care about other netizens. They have their own unique insights into topics as varied as the World Heritage music of Cape Verde; a sexual harassment case in Trinidad & Tobago; how an Internet blockade in Kashmir affects students; LGBT rights in Taiwan; and so on. If you look at the GV website, you will see what I mean.
Global Voices was born in December 2004. It's hard to believe now, but Twitter didn't exist then, and phones weren't "smart."
Fifteen years doesn't sound that long, but as Global Voices says: "In internet years, it's practically a millennium."
Since 2004, Global Voices has published almost 100,000 posts and created special projects that you can also see on the page. Advox is "a global anti-censorship network of bloggers and activists dedicated to protecting freedom of expression online." Rising Voices aims to support marginalized groups, under-represented communities and endangered languages. You will find personal essays, creative non-fiction and commentary by GV contributors on the differences and similarities between media coverage of international events on The Bridge. Newsframes is another collaborative media project launched in 2018.
Global Voices focuses not only on digital rights and Internet freedom. It also continually lifts up the voices of netizens around the world – in many languages. The fantastic community of (volunteer) translators works in over 51 languages! You have no idea what a thrill it is to have your article published online in Italian, Russian, Yorùbá or Malagasy!
Global Voices is not a business. It is incorporated in the Netherlands as Stichting Global Voices, a nonprofit foundation. GV relies on independent grants, editorial commissions, and corporate and individual donations. Most of us are volunteers – including the Board.
We don't just write articles. We are always busy online. Today, my colleagues in Africa moderated a Twitter Chat on Politics and Digital Rights in Africa with the hashtag #writingtowardfreedom. You can read the collected articles on this topic here.
We also meet up occasionally, somewhere in the world. This year, Global Voices Asia met in Taipei, Taiwan. Two years ago we were in Colombo, Sri Lanka, meeting in an old colonial hotel with a beach the color of a wheat field and white parapets swept by crows. It was an intense experience that I will personally never forget. I was overwhelmed and often emotional, meeting people I had admired from afar, absorbing perspectives in workshops and meetings. This article by Tori Egherman best sums up that meeting, for me.
You can find all the articles I have written for Global Voices here. I wrote my first article for GV in February, 2016, so I am coming up to my fourth anniversary with them. One of my New Year resolutions is to write much, much more. There is so much to write about, and so little time!
Happy birthday, Global Voices! May you flourish and endure for many more years.
PS. Please go to our website if you would like to donate. And do subscribe to our weekly email newsletter for the latest articles. 
Tags: Africa, bloggers, Cape Verde, censorship, digital rights, Ethiopia, Global Voices, human rights, Internet, journalism, Kashmir, Netherlands, netizens, Philippines, politics, social media, Sri Lanka, Taiwan, Technology, Trinidad and Tobago, Twitter, Venezuela