December 7th, 2019
Jamaicans know how to put on a great show – and how to do it right.
When I arrived at the headquarters of the Inter-American Development Bank (IDB) (actually in my neighbourhood), I imagined that the 50th anniversary of the bank's presence in Jamaica would be – well, a bit stiff. How wrong I was. Perhaps if I had taken note of the length of the program, I would have realized that this was not just a formal event. It turned out to be an energetic affair, full of fun and a lot of end-of-year socializing, too. It was quite beautifully organized.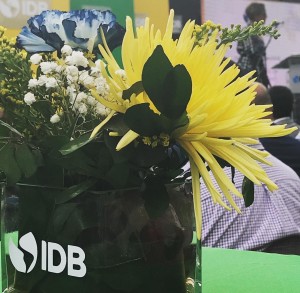 Although the unseasonal mid-afternoon heat made those who arrived on time a little uncomfortable, there was a large tent with a transparent roof, and rows of glassy-looking chairs, and warm greetings from the IDB staff as we came in. There was also a large (slightly cooler) space where, in keeping with IDB's determination to turn Jamaica into a truly digital economy, there were several booths of home-grown young companies using technology to grow our social and economic space. One of these was Bluedot Insights, a five-year-old startup that conducts market research for companies with a major focus on data. It uses neuroscience applications (yes, the Bladerunner kind of stuff). The CEO/Founder Larry Peart is an alumnus of the Branson Centre.
Economist Therese Turner-Jones is General Manager of the Country Department Caribbean Group, which oversees the Bank's operations in Barbados, Guyana, Jamaica, Suriname, The Bahamas, and Trinidad and Tobago; as well as the IDB Country Representative for Jamaica. I picked up a couple of things from Ms. Turner Jones' welcome remarks: firstly, that the IDB is looking at doing more "people-centric" (my quotation marks) programmes (inequality is real, and growing, both globally and regionally); and secondly, a hint (did I get this right?) that Jamaica did not fare well in the UN Human Development Report, to be officially launched at the United Nations Development Programme (UNDP) offices in Kingston on Monday morning, December 9. Ms. Turner Jones also stressed the need (not for the first time) for a digital ID for all Jamaicans.
There was also an interesting update on the Yallahs and Hope River Watershed Management Project, which I first wrote about after a visit to Content Gap, way up in the Blue Mountains. It has been "re-scoped" (there was a major bush fire, which nearly engulfed the Content Gap Primary School, after my 2016 visit) and includes fire training as well as land husbandry techniques and reforestation.
And then there was the music! The Alpha Boys Band were in top form, and blew up a storm. I loved the trombonist, and the lively saxophone players. They played every kind of Jamaican music, from ska to dancehall, and had a young singer, who was trying out quite a few different styles (I even caught him doing a little scat singing). They have developed into a confident, solid band that really seems to enjoy playing together. Alpha Boys' School deserves every dollar and cent of support you can give them.

When the ASHE Performing Arts Company  came on stage, I knew they were going to be professional and flawless as ever. This time, they really pulled out all the stops. They started off with a bunch of my favorite seventies songs and then sang and danced their way through most of the program, regularly bringing audience members to their feet (and even dancing). Every time you think these highly talented young people can't get any better – they simply do. Their versatility is dazzling. And they must have been quite exhausted!
So, as the evening shadows fell and hungry guests took a little refreshment, I was left to ponder (while watching the Alpha Boys practicing some dancehall moves!)…
What is the role – present and especially in the future – of development banks such as IDB? The Bank sought ideas and perspectives from guests during the event online. Suggestions that appeared on the screen included a focus on rural infrastructure, and the family – social issues. Although questions have been raised about the effectiveness of "social intervention" programs recently, they are still critical, in my view. However, it is not easy to evaluate the impact they are having. This is something that needs to be worked on, and this is where "best practices" would come in.
Meanwhile, the specter of crime and violence hovers over everything.
What path would you suggest the IDB takes over the next twenty years, for Jamaica?
Tags: Alpha Boys Band, Alpha Boys' School, Bahamas, Barbados, Bluedot Insights, Branson Centre of Entrepreneurship, bush fires, Caribbean, Climate Change, Content Gap, digital economy, entrepreneurs, Guyana, Inter-American Development Bank, Jamaica, national ID, neuroscience, startup, Suriname, sustainable development, Technology, The ASHE Company, Therese Turner Jones, Trinidad and Tobago, UN Human Development Report, United Nations Development Programme, Yallahs and Hope River Watershed Management Programme