March 27th, 2020
Why can't it be like this all the time?
These thoughts have been going through my mind (and others have expressed it) as Mayor of Kingston Delroy Williams posted photos of the thorough sanitizing of busy traffic areas and markets in the city. The Mayor did point out that some cleaning is done monthly – perhaps we were not aware, but this does underline the point that a clean environment is essential for our public health. Over the years, we have noticed "informal garbage dumps" at various points around the city (there is one on Old Hope Road that just grows and grows), and certain areas such as Papine and Half Way Tree always have a grimy look about them.
So, the city clean-up is absolutely welcome. We do hope that it will continue even "after it's all over" – an expression we keep using, without knowing when COVID-19 will end. The summer, perhaps?
I hope that as the virus keeps us indoors (I hope we are staying home!) we are also looking outwards too, at our public spaces. Land pollution in both urban and rural spaces is an ongoing problem. It has become part of the backdrop of our lives. We have become used to it to some extent – in particular, solid waste pollution. We overlook it, but as I have written before, visitors notice it right away. Jamaicans are very good at keeping their own spaces clean, but tend to have less concern about what's out there on the street, in the gullies and drains, or in our rivers and ditches. We leave it up to government workers to deal with it – eventually, and at considerable cost to taxpayers.
So, why not practice clean habits in the first place? Now that we are perhaps a little more aware, why don't we care for, maintain, even seek to beautify our surroundings?
With a new community spirit blossoming in some areas, as many of us are in self-isolation (certainly in my own neighborhood) let us hope that this caring for our immediate public areas will expand. Jamaica Environment Trust (JET) has gradually expanded its Nuh Dutty Up Jamaica campaign through its Community Cleanup Network, which is more and more over-subscribed every year. Indeed, people do want to keep their community clean and beautiful – sometimes they just need the encouragement and motivation (and a little funding) to do so. In this respect, Kingston Creative is making an impact in the downtown area with their bright murals.
But what is really needed is hands-on work by residents – not someone coming in from outside, not a "one-off," but a sustained local effort. And yes, this takes a certain amount of money to keep up – but even more critically, a spirit of volunteerism. I hope (perhaps this is too much to hope for) that this will be one positive, optimistic spin-off of the COVID-19 emergency.
There is the opportunity for a community-wide, consistent effort, here.
There is also the matter of air pollution. As I have observed so many times before, air pollution is a public health issue. In the COVID-19 pandemic, we are all thinking about breathing. Comments have popped up on social media from all over the world, noting how the air quality has drastically improved due to a reduction in road traffic. Even Beijing residents have been seeing blue skies!
COVID-19 is helping us to confront what we are doing to the Planet. Pollution is a public health issue that communities could come together around.  If we put our hearts and minds into it – and take action!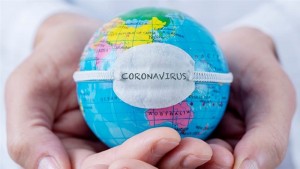 Tags: air pollution, community cleanup, COVID-19, Jamaica Environment Trust, JET, Kingston, Kingston Creative, Mayor Delroy Williams, Nuh Dutty Up Jamaica, public health, solid waste management