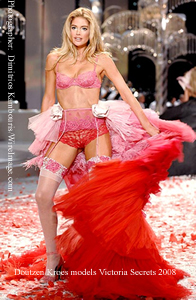 Most women now have at least one item that comes from Victoria's Secret in their treasure chest. Why not? since it makes us feel confident, attractive and sexy, ALL at the same time.
So you can imagine my shock when i heard of the numbers of women claiming they have symptoms of rashes, hives, welts and even permanent scaring amongst other things – I shall not mention in polite company -  from wearing a Victoria Secret bra!
Welts! Rashes! Itching! Blistering! Do not make women feel confident, attractive or sexy.
Law suits are being filed and bras are being tested for FORMALDEHYDE, a chemical found in embalming fluid, which is known to cause allergic reactions to some humans.
Victoria Secret's has denied the claim that they use formaldehyde in their bras. Its a claim I tend to believe as I and roughly eight friends I surveyed seem never to have had a problem.
YET it seems that this chemical has somehow found its way into the manufacturing or distribution operation of that organisation.
So the topic for discussion is…. Are women guilty of putting fashion before health? Let me know what you think in the comments below.
HOWEVER ladies and gentlemen, until we know more about what's really happening I'd suggest you watch this space for updates you can trust.
Tags: attractive, hazards, health, lawsuits, lingerie, rash, research, secrets, sexy, victoria, women
The opinions on this page do not necessarily reflect the views of The Gleaner.
The Gleaner reserves the right not to publish comments that may be deemed libelous, derogatory or indecent.
To respond to The Gleaner please use the
feedback form
.