America has elected a new President .  The fashion forward Obama family will soon be in the White House.   President Elect Obama's appointment to this post heralds great change on a global level.  The First Lady Elect, Michelle Obama will also create change for the fashionistas amongst us.
She has proven that politics & fashion do mix. Michelle embodies intelligence, style and beauty. I predict this First Lady will cause a stir in the fashion world akin to Princess Diana.  She seems most capable of filling the shoes of the original political fashionista Jackie Kennedy Onassis (Jackie O).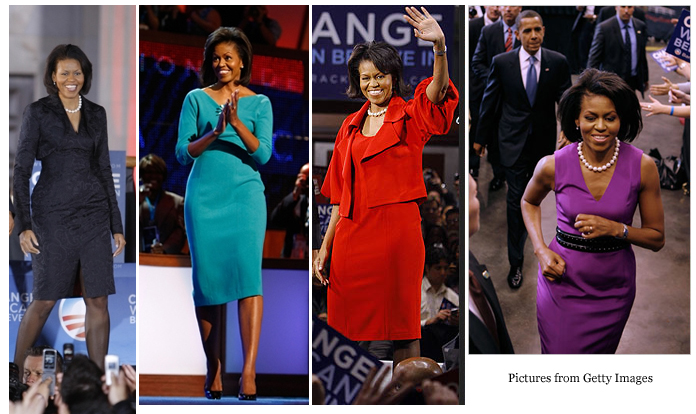 From Michelle's killer bob hairstyle, sometimes worn in a Jackie O, flip. To her flat pumps or high heeled boots this First Lady oozes style and  sophistication.
Her strong personality & confidence is reflected in her style. Beads, faux pearls & belts, all sizes, are part of her 'essentials'. Michelle combines these accessories effortlessly with simple streamlined silhouettes, perfect for her height and shape. Don't take my word for it look at the pictures.
This First Lady embraces colour, texture and pattern. Yet she does so in a manner that puts a modern spin on another era's fashion style.
All the while projecting an image of professionalism that screams out the fact, you need to take her seriously.
I am guessing this is perfect for all us professional ladies out there.
I have shared some of her more formal looks on the campaign trail with you. Let me know your favourite and please say why?  I admit to you I am  struggling to choose just one!
Watch this blog for more on Michelle Obama political fashionista… as you know we will be seeing much, much, more…
Tags: politics fashion obama family michelle president white house fashionista accessories