Hi there fashionistas and trendsetters

.
Today we're talking Golden Globes! I have listed a few of  the hits and misses I saw walk the red carpet.   I know its my opinion so that is why I am inviting you to send me yours… but remember you need to say why it rocked?  Or why it flopped?

.
The curvaceous beauty below, Christina Hendricks from 'Mad Men' looked absolutely stunning in a Romona Keveza red ruffle shoulder creation.  She truly ROCKED! the red carpet.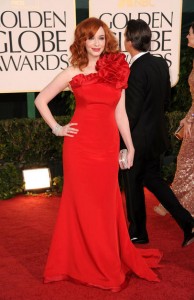 Photo by Frazer Harrison/Getty Images
Helen Bonham Carter (below) attended the Golden Globes wearing a dramatic Vivienne Westwood ensemble.  In short she  looked ghastly!
Her style that night was  way over the top for such a prestigious event.    I began to look for Bjork in her swan dress.  I'm not lying…   Bonham Carter gets an unreserved FLOPPED!
Sidebar:  I do  like the different coloured shoes, but once again its not appropriate for this event.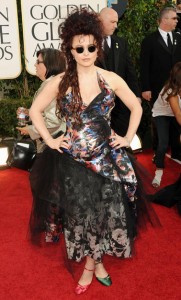 Photo Jason Merritt/Getty Images
Emma Stone looked fabulous in  a peach coloured,  figure-hugging, backless Calvin Klein creation ! Sorry the pictures not a great one, but Emma definitely ROCKED!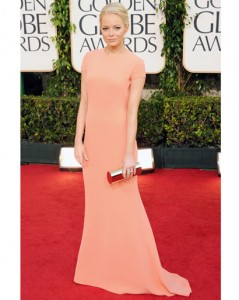 Photo by New Getty Images
Tilda Swinton is one of my favourite actresses ever, ever.  Somehow, she always seems to have issues with her red carpet looks.   Here's another one! Aside from the fact that this Jil Sander creation is 'totally' ill fitting, the look is just wrong on so many levels. FLOPPED! Sorry!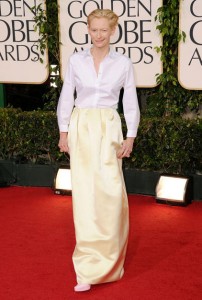 Photo Jason Merrit/Getty Images
I have so many hits and misses as I'm sure you do to

  So I'm going to close this entry with two pieces that I think are perfect for a red carpet event like the Golden Globes.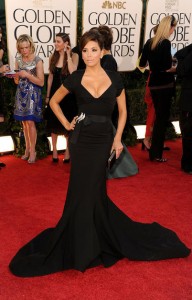 Photo Frazer Harrison/Getty Images
Eva Longoria
(above)
ROCKED!
She looked stunning  in this Zac Posen fishtail gown. The
'Desperate Housewife'
oozed sex appeal in this figure hugging creation. I don't think she's going to be single for much longer ladies and gents

.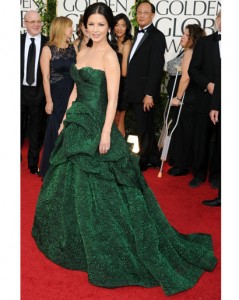 Photo New Getty Images
Catherine Zeta-Jones looked beautiful in this gorgeous green masterpiece by Monique Lhuillier. Loved the hair also! This ball gown definitely ROCKED!
Okay its your turn people. I'm looking forward to your hits and misses

.
Talk soon
Shaz
Tags: Catherine Zeta-Jones, Christine Hendricks, Emma Stone, Eva Longoria, Golden Globes 2011, Helen Bonham Carter, Tilda Swinton