Author :
cmunroe
Carlos Tevez can be described as a professional footballer. But would that be an accurate definition of an individual who was pursued by the league which can trigger a money hurricane?
In 2017, Tevez, when he arrives in China will kick his way through a salary which relegates Messi and Ronaldo to bag-juice vendors!
What would you do with £600,000 -weekly!
TA 1
In 2016, the never-ending Summerbell vs Gore rivalry was rekindled. Fuel was force-fed to the flame! Fans, like protected wildlife, basked in the invigorating aura of the sanctuary of speed at Dover Raceway.
A trend which began in 2015 – a competitive and reliable TA 1 – was maintained in 2016. A raucous, lethal TA 1 was on duty in 2016.
TA 1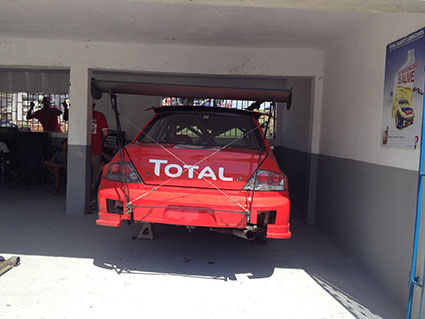 But Doug's vessel of speed was never intimidated. The war waged was well received but neither machine was race-car of the year worthy.
RALLYSPORT
Memories are an unwelcome enemy! The 'Tru-Juice series' will not be overlooked and must be recognised for what it delivers for the discipline.
But, rally fans deserve a lot more. Our rallysport history demands significant improvement moving forward.
DRAG RACING
The NDRC needs no one to honk its horn. Attend the events the body organises and a transition lens is not required to discern why it is clearly the best motorsport fruit in the basket!
In April, a certain violent-blue Toyota Supra, like an attention-prostitute, grabbed a lot more than casual interest.
The machine mentioned, in my view, was (and is still) significant for more reasons than a Kartel fan can supply for his release!
Jamaica has a robust drag racing culture and machines which are iconic in the land of the Samurai are present in carports islandwide.
There was a time when 6 cylinder machines, like Robert Mugabe, ruled without contest. Time, especially in drag racing, waits on no man or machine!
Technology, preference and other factors saw the emergence of purpose-built, all wheel drive snipers which capsized drag racing's status quo. Six cylinder machines, visibly humiliated, faded into the archives or the parking lot!
In Neville Hogg's Supra, a rebirth which was in progress manifested itself in a billowing plume of valuable rubber!
In April, Neville Hogg's Team Seal 6 machine eliminated the Swiffy-driven Scooby in the final race for the 10 seconds class.
THE SWIFFY-DRIVEN 10 SECONDS SCOOBY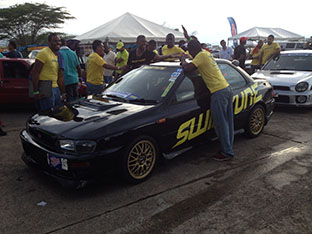 We saw it then, but while we were wrapped in the thrill of the Supra's flight to victory we were blind to Mr Hogg's view of the future.
The machine which crucified Swiffy's best effort was apparently in warm up mode! In 2016, the violent-blue Supra knew no limitation.
At each NDRC SUPLIGEN-motivated Round of competition the Supra shone with the sun's brilliance.
THE REAL HOGG !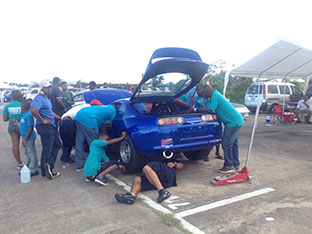 Ten seconds was no longer the benchmark! Nick Manley, possibly motivated by Neville Hogg's rapid progress joined the Supra party.
Both machines picked nine seconds from the 'tree' and when they nervously sat beside each other for their race for Supramacy, Vernamfield became a city of cellphone camera lights!
ADRIAN CHECKING THE LAUNCH CODES !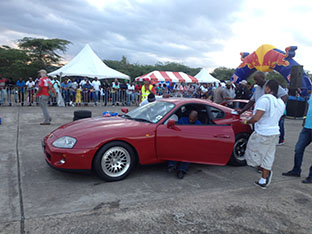 Violent-blue, in sadistic fashion, like a young Iron Mike Tyson, mutilated Nick's scared-red machine! Nine seconds conquered!
VIOLENT-BLUE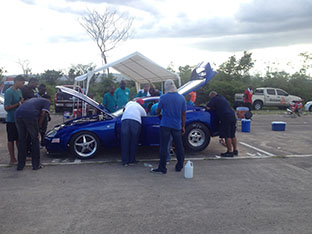 Did Neville Hogg rest while ahead? The rebirth continued. Truth be told whatever Mr Hogg's motivation is we are forever indebted to him.
His efforts have not only restored the JZ's honor, they have also demonstrated how an unconventional and currently unpopular beast, which is arguably grotesque by modern standards, but  brutal in delivery, can produce gorgeous, victorious speed!
ALL HAIL THE JZ !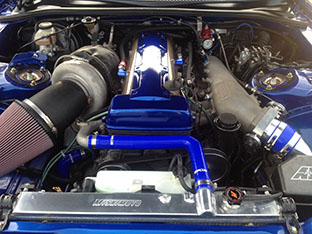 Based on what we have observed thus far and the achievement of yet another milestone recently, we willingly award Neville Hogg's Sadistic Supra – RACE-CAR OF THE YEAR.
Cecil Munroe Gleaner On-Line Writer