Author :
cmunroe
"It is lonely at the top". Words spoken by BadBreed Racecraft's head honcho Nantwi Coke. Mr. Coke is typically a rather laid back and reserved individual. A jovial man of few words, but when they (words) escape his massive but magnanimous frame, they convey the elevated pride, stance and poise one would expect when your team retains Jamaica's fastest rear wheel drive tube frame machine.
Trapped in laughter, he stated – "You can quote me on that!" And when you assess all that has been happening in drag racing, BadBreed Racecraft's mega-Mustang machine has left indelible, pressurized rubber imprints on the impermeable concrete which adorns Vernamfield's 1320ft. The machine's 7.739 seconds et has it chilling in an ultra-VIP suite awaiting a worthy opponent. Machine!
Will it be in action on Sunday? Will an opponent appear on Sunday? What? Dean Shaw?
SPEED FACTORY
Dean Shaw was in a no nonsense mood at Test and Tune (16/7/2017). He was early in attendance. His tent was a beehive of activity, but operating within a relaxed atmosphere. The 12 seconds truck was wrapped in its usual macho pose and when it took to the testing stage (the track) it roared menacingly from the line.
But, possibly motivated by an unfamiliar mix of horsepower and torque it became visibly unruly. Sounds of a screeching, frightened beast ricocheted through the flora! Thankfully, the audible, but empty drama meant harm was done to neither man nor machine and the rapid truck escaped. It eventually ripped a few scintillating passes. Definitely a machine to watch!
Dean's pet project – the chrome-attired Camaro was also in the building. Introduction, it does not need. When it is fired, wherever you are you will be unavoidably distracted.
Dean carries a significant burden though. The Speed Factory is fully aware of what the machine is capable of, but ever so often, it appears as if it exists in a realm which is a second short of where it should actually be.
On Sunday, Dean made a valiant effort to set the record straight! The machine made a few passes which restored hope that it can challenge the red juggernaut. The machine thundered to Dean's best time thus far – 8.2 seconds! How will it perform on Sunday? Will the record fall?
NDRC
The NDRC's Full Throttle Championship series has not been found wanting in the previous instalments and even greater things are expected at Round 3. The series is obese, thanks to the number of fast machines which occupy the entry forms.
Some of the usual suspects were at Test and Tune – Swiffy, Cory, Chukku, Myzery-boss, the Williams clan (WASC) and the Captain (Clive) – and the line of machines rolling to the 'tree' maintained a healthy relationship with length as the sun took its journey to its set point.
Swiffy was in the building!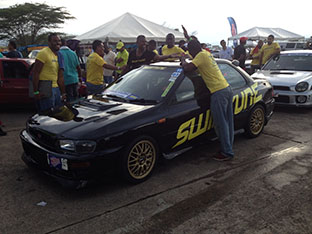 In the previous blog, I mentioned Marvin Scarlett's Honda Civic. On its maiden outing, it achieved a 13.8 seconds pass. The 12 seconds quest continues. How will it perform on Sunday?
If drag racing is your drug, there is only one place to be on Sunday! If you have no plans for Sunday, there is one place you should be! Vernamfield!
Based on images I have seen, a few machines have acquired an assortment of performance enhancing devices. The 'tree' will tell the tale!
All classes will be in action – 16 seconds to 7 seconds. Will a 6 seconds machine appear?  Calling all machines! Calling all fans!
Hailing all of the Class winners from Round 2 – Oshane Henry, Kirk McKain, Lauren Sukho, Damian Scott, Cameno Taylor, Damain Allen, Seymour Anderson, Rory Smith and the Real Hogg – Neville Hogg!
Full Throttle 3! Press Gas! Fresh Speed! Vernamfield – this Sunday!
ORVILLE WILLIAMS
What will Orville Williams' world's fastest PulStar deliver? Will it be gone in 7 seconds? Is it true that Kent T has Mandeville's fastest Honda?
A bullet from Ken T Racing!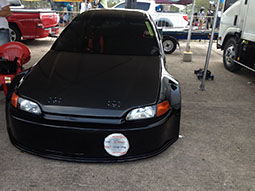 How will the M.A.D. man respond? Will he respond?
Should we expect more Supra-magic?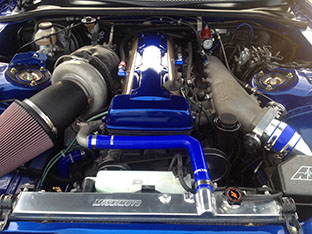 St Ann where are you? Seymour!
Camaro vs Mustang?
Full Throttle 3 – Vernamfield this Sunday – rated E for EVERYONE!
Cecil Munroe Gleaner On-Line Writer