December 2nd, 2014
It's a particular delight when a Jamaican living abroad returns home for a visit…Especially when she has a book she has authored tucked under her arm.
On November 22, a crowd of us – old friends, recent admirers, book lovers and the merely curious – gathered on the upper floor of Bookland, in New Kingston. Tucked in among the mobile phone stores, sports bars and banks, Bookland has a substantial and dignified history. It is the retail arm of Novelty Trading Company, which was founded in downtown Kingston in 1925 (where it still resides, at 53 Hanover Street) and is Jamaica's largest wholesale distributor of books, magazines and more. So it will be ninety years old next year.
As the pale light of a cloud-covered afternoon filtered through the blinds, we sat ourselves down in rows, among more rows – of books. Before us, our visiting Jamaican from "farin" (Kitchener, Ontario), poet and writer Pamela Mordecai sat at a round polished table on a carpet of faded colors. She was flanked on each side by Jamaican writer, poet and philosopher Earl McKenzie, who sat up rather straight, with his hands on his knees, smiling benignly; and, more serious and thoughtful, Guyanese-born dramatist and educator Jean Small, wearing a white robe with touches of blue and yellow. Both read from Mordecai's new book of poems, "Subversive Sonnets" before the poet herself, glasses perched at the end of her nose, dipped into the book.
The word "subversive" suggests a kind of darkness, doesn't it. The juxtaposition of this word with the pretty word "sonnets" (suggesting hearts and flowers) provides an interesting conflict. The poems are, of course, in sonnet form, although there are, and have been over the centuries, variations. And we know, don't we, that a work that is "subversive" is going to turn things around and make us feel uncomfortable. Certainly a frisson passed through the audience when Mordecai read the opening line of the poem "Thomas Thistlewood and Tom," which describes a disgusting, humiliating form of torture designed and inflicted by Thomas Thistlewood (slave master) on Tom (slave). Yet, Mordecai called this one of the "love poems" in the book. I will not go into details, but if you read it you will understand why. In this collection, with clear purpose and on occasion, the poet does not shrink from harsh language. But it is for a purpose.
One of the sonnets (or "little songs" – and they do sing, in many different keys) is about Cockpit Country. Mordecai toured the area – an unspoiled but now threatened wilderness of great environmental and historic value – during her stay in Jamaica. This is a bit of a song of love, too. In "Cockpit Country: A Tasting Tour," the area's karst landscape of rounded hills, deep caves and crevices  a woman's body to be explored. But more than that, Mordecai writes: She is a companion for life and beyond, nurturing and eternal.
Reading the book later that weekend, I decided that one of my favorites is a longer one, "This is the Way." It is a kind of meditation on familiar Jamaican domestic routines, all associated with clothing. Each stanza is a day of the week, beginning with Monday (the washing) and ending with Sunday (the wearing at church). It might have been a little too long for a reading, but I would love to hear its steady rhythm read aloud. I love this phrase, from Friday morning: "Dawn scrapes light from the dark…" And many others.
When I read works like this, I often wonder to myself how the writer feels about expressing and re-conjuring his or her country of birth, from a distance. Is it a tangle of thoughts and emotions? Or is it a series of sharp, clear memories that inspire the writer to create? Is it now half-imagined, or is it "real"? There is also the language, transporting you to the country you were born in; Mordecai uses the rhythms and riches of Jamaican patois very effectively. In some other poems, like the laconic, witty "No Problema Doc," she uses a casual, conversational style, which provoked laughter at the reading. It sounds like me getting up in the morning – a struggle with the wayward physicality of advancing age.
Now, I would like to recount, for this poet and me, a short personal anecdote – a memory that stays with me. I once worked in the book business in Jamaica, and one warm January day (it was January 13, 1993) I was in our office parking lot with Pam, unloading some of her books from the trunk of her car. We were chatting idly as we did so, when a tremendous crash, accompanied by a shuddering of the concrete beneath our feet interrupted us. The concrete rippled; the wires overhead swayed. Pam and I dropped the books, grabbed hold of each other and made some wordless sounds. A Rastaman working in a nearby warehouse, however, was not lost for words, roaring in triumph, "Jah! Rastafari!" That was one of Jamaica's strongest earthquakes in recent decades – only a 5.4 on the Richter scale, but causing considerable damage both in and out of town. I wonder if Pam remembers this. In that same year, as it happens, Pamela migrated to Canada with her husband Martin and their three children. This latest book is dedicated to Martin, who gave a short but heartfelt "thank you for coming" at the end of the reading.
Oh, yes. There was another woman, whose family had more than a passing acquaintance with Jamaica. She wrote that famous, sweetly passionate Sonnet that begins, "How do I love thee? Let me count the ways." She was Elizabeth Barrett Browning (1806-1861). In a sonnet titled "Counting the Ways and Marrying True Minds," Mordecai turns to three Ways – One, Two and Three (the third being the "Wash-Belly." This poem, at times ironic and humorous, moves into a reflection on the staying power of love, ending with the simple statement: "I'll be around." Mordecai read it with a flourish, and the audience was satisfied.
So now the poet has left us again. But I know that Pam Mordecai will around again, soon – gritting her teeth as she endures another hated plane ride from Ontario to Jamaica (she confessed her fear of flying, and I sympathize). She has another book up her sleeve, I understand – her first novel. Ssssssh!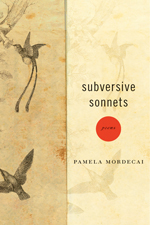 Pamela Mordecai is a prolific writer of poetry, short stories, non-fiction and children's books. If you would like to read more about her work, please visit her website/blog at http://www.pamelamordecai.com. You can also find her on Facebook and Twitter (@Refracting). I mention Twitter because I enjoy Pam's late-night tweets. (Like me, she says she is much more productive after dark. She told the audience that she and her husband, who works on a different timeframe, often pass each other on the way to and from bed!) "Subversive Sonnets" was published by TSAR Publications in 2012 and is available locally in paperback. At Bookland it costs J$1,850 and it is also available on Amazon.
Tags: Bookland, Cockpit Country, Earl McKenzie, earthquake, Elizabeth Barrett Browning, Jean Small, Kingston, Ontario, Pamela Mordecai, poetry, slavery