April 3rd, 2017
"Challenge yourself! Be bold. Challenge yourself! But you don't have to win…"
So said Shaquani McKenzie, the moderator of a discussion I participated in on the evening of International Women's Day. Shaquani, a member of the Jamaica Youth Advocacy Network (JYAN) – has a wide, sunny smile. She welcomed the group of young people – mostly students – to a discussion on Raising the Bar: Women Who Inspire Us at Excelsior Community College (ECC) in Kingston.
Looking back at that evening (it was a busy day and an eventful week) I realise the importance of such inter-generational discussions. I joined three other women – all of us panelists more mature in years than our audience. Paulette Roberts-Dowe, Principal Lecturer at ECC was joined by Dr. Donna Powell Wilson, the first female Executive Director of the Council of Community Colleges of Jamaica, and Paula Ferguson, Chief Compliance Officer at JMMB Merchant Bank. With our varying backgrounds, we each spoke of our experiences, challenges and achievements; and each of us tried to share thoughts on how these had changed our lives and propelled us forward.
The event was organised by the Voices for Jamaica Today Foundation, a non-governmental organisation established by Jamaicans in the diaspora that is committed to community development and to assisting the most vulnerable in Jamaican society, with a special focus on youth. The Foundation partnered with the Eagles Outreach Club at ECC – a charitable youth club founded quite recently, in September 2016. The club is seeking more partnerships (and more members) so that it can expand its outreach. Find them on Facebook!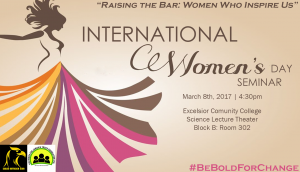 There was much humour in our conversation. Dr. Powell Wilson told us she grew up in a board house; she realised that "education is the ticket to success." Growing up poor, she also realised the importance of shoes – yes, shoes – telling us a coming-of-age story that made us laugh. "Now," she declared, "I wear any shoes I want – any brand, any kind, I don't care – because there was a time when I didn't have any." Her role model is the Biblical character of Esther, who did not sit quietly accepting her fate, but used her wit and intelligence to achieve her goals. "You have to fast…prayer alone can't do it," Dr. Powell Wilson added.
I didn't want to talk too much about myself. However, I wanted the audience to understand that we must not make assumptions about people, ever; and try not to judge, because we don't know what someone else has been through. So I gave a couple of examples of very negative experiences in my life, which I had managed to overcome. I did not have the challenge of poverty – but I did have other struggles.
I also told the audience about three women whom I admire enormously for their courage: Berta Caceres, the Honduran environmental and human rights activist and indigenous leader of her people, who fought for land rights and campaigned against mega-developments by multinational companies that threatened to destroy her people's livelihoods and way of life. She had many enemies. She was murdered in her home by the military on March 3, 2016 at the age of 44. Berta Caceres once said:
We should build a society that is capable of co-existing in a just manner, in a dignified manner, and in a way that protects life.
Sometimes, that is too much to ask for.
Malala Yousafzai, who won the Nobel Peace Prize in 2014 at the age of seventeen, now strongly advocates for education, especially for girls. She nearly lost her life for this cause in 2012, when she was shot in the head by a Taliban gunman in Pakistan. She has an incredibly supportive father, as I had too; and like me, she was also a blogger. Malala said:
I raise my voice not so I can shout, but so that those without a voice can be heard. We cannot succeed when half of us are held back.
Wangari Maathai was another Nobel Peace Prize winner (ten years before Malala) – and the first African woman to win it. She was an activist, a feminist, a teacher, a politician for a little while, and a fierce defender of the rights of women and the environment in Kenya. She also had a beautiful smile, and was always positive in her outlook. Wangari Maathai said:
In the course of history, there comes a time when humanity is called to shift to a new level of consciousness. To reach a higher moral ground. A time when we have to shed our fear and give hope to each other. That time is now.
This quote is from her 2004 Nobel Prize speech. But all these three women have much in common. They didn't just talk. They were women of action, guided by strong principles. They were builders. They were militant, but they were not destroyers. Women I can look up to and be inspired by.
Overall, the panelists concluded, we have tried our best, and continue to strive; we haven't always got it right; we have learned to appreciate others' realities (a valuable lesson) and to reject inequity and discrimination in relationships. I would also tell young people: tread your own path, however lonely it may seem at times. Don't follow the crowd. Be true to yourself.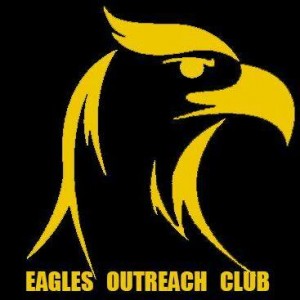 Thank you to Voices for Jamaica Today Foundation and Eagles Outreach Club for a great (and very well organised) evening. Do support these organisations; they are young people, doing meaningful work.
Tags: Berta Caceres, children's rights, Council of Community Colleges of Jamaica, diaspora, Donna Powell Wilson, Eagles Outreach Club, Excelsior Community College, gender equity, girls, Honduras, indigenous rights, International Women's Day, Jamaica, Jamaica Youth Advocacy Ne, JMMB Merchant Bank, Kenya, Kingston, Malala Yousafzai, NGO, Nobel Peace Prize, Paula Ferguson, Paulette Roberts-Dowe, Shaquani McKenzie, Voices for Jamaica Today Foundation, Voices of Jamaica Today Foundation, volunteerism, Wangar Maathai, women's rights, youth at risk