May 6th, 2017
The 2017 Hurricane Season begins on Thursday, June 1. We are currently under a flash flood watch, which has been issued for all parishes over the weekend. Here we go again, I hear you say…
Barely two weeks ago, after a couple of days of rain, a large built-up area in Clarendon was awash with water. Fortunately there was no loss of life, but there was tremendous and costly damage, with bridges and roads damaged or destroyed and homes wrecked. The head of the Office of Disaster Preparedness and Emergency Management (ODPEM) Major Clive Davis spoke about it after the event, and said there were problems with drainage, etc. Meanwhile, in other more rural areas folks suffered in the usual way from landslides and the like – as they are more or less expected to suffer. And two politicians descended on Clarendon – purely, it seems, to conduct an unseemly political tracing match over who was to blame in front of media cameras.
Are we going to go through this every time there is a shower of rain? By the end of this weekend, are we going to be wringing our hands over more damage and ruin? Will ODPEM again talk "after the fact" about what needs to be done? Will we again be told in millions of dollars what the cost is? Will more finger-pointing ensue? If we have more rains this month, what kind of condition will our most vulnerable infrastructure be in by June 1?
I recall that ten years or so ago or more, we almost became tired of seeing the ODPEM head appearing on television. There were two very effective directors of that agency, who would lecture us all about preparedness and bombard us with information. Well, those were the days. I wouldn't mind getting sick of the sight of ODPEM – not to mention the indefatigable Evan Thompson at the Met Office, whose media presence was cheerful and reassuring. Mr. Thompson heads the Met Office now, but we don't see or hear much from him. Am I missing something? I don't even know the names of the possible storms for this year.
Last month, the Japanese Government gave a generous grant to Jamaica for an "islandwide disaster communication response system" – approximately US$13 million over the next four years. It sounds promising, but perhaps we could have an update on exactly what will be in place for this year's hurricane season?
It seems to me that the huge burden of disaster preparedness has fallen heavily on the municipal councils and the Ministry of Local Government. After the Clarendon flooding, the Mayor spoke to the media more than ODPEM did. I am not sure what Ministry ODPEM and the Meteorological Office of Jamaica fall under, in fact. The Meteorological Office is similarly mute, only communicating via terse "updates" through traditional media outlets. Occasionally a not very articulate "duty forecaster" might get caught by radio journalists for an interview to explain a little bit more. We are none the wiser.
Now this is my main concern with all of this: the inadequate presence of ODPEM and the Meteorological Office on social media. This to me is astounding. Of all the convenient, virtually free ways to communicate with the public, social media would seem to be the best in times of emergency – or as we prepare for possible emergencies. Well, ODPEM has two Twitter accounts (one of which appears to be dormant). The other one consists mainly of retweets of Met Office bulletins and notices from the National Works Agency (with its incredibly hard-working communications man, Stephen Shaw) about road closures.
As for the Met Office, it apparently has no Twitter presence. I am instead following the Antigua Met Service (I kid you not) which tweets daily, and today shared: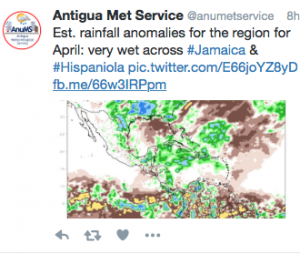 Thank you, Antigua, for updating us on a regular basis and even looking back at weather patterns in the region.
On Facebook (used by well over a million Jamaicans now) things are actually worse. A glance at the ODPEM Facebook page has an impressive cover picture:

What preparations are we to make? Well, ODPEM doesn't actually tell you this, unless it's well hidden on the page and I'm not seeing it. Stranger still is this press release, posted after the recent rains (actually no date is on the release!)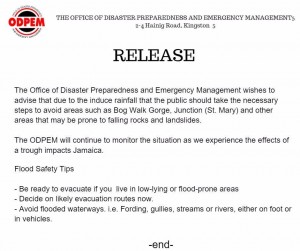 The heading (even the name and address of the agency) is misspelt/mistyped. And I would love to know what "induce rainfall" is. The press release is vague in the extreme ("avoid areas such as") and gives only minimal "flood safety tips." It's bizarre. Who wrote this press release?
Oh, and I can't find the Meteorological Office of Jamaica's Facebook page. Can you?
Japan's Ambassador to Jamaica Masanori Nakano had some wise words at the signing of the grant agreement. Japan has suffered more than its fair share of devastating natural disasters in recent years. The Ambassador noted:
"We (Japanese) have deeply learnt this very simple but poignant lesson and truth through our own experiences. During the calm moments we prepare and try to enhance infrastructure, as well as sensitise people through ongoing public education to build a resilient society."
So, the question remains: Are we Jamaicans prepared? Are we being educated about resiliency, in these dire times of climate change when weather patterns are increasingly unpredictable? Do these agencies not realise that ongoing public education before, and swift and targeted information during and after any kind of natural disaster is critical? Why are they not using these obvious tools to communicate with the public?
Why are these two government agencies not educating us, right now, on preparation for hurricanes, floods and anything else that might come our way? There is absolutely no excuse.
Or perhaps someone can explain. Anyone?
Tags: Clarendon, Climate Change, communications, disaster preparedness, drought, Evan Thompson, Facebook, floods, hurricane season, Jamaica, Japanese Ambassador to Jamaica, Japanese Government, journalism, landslides, Major Clive Davis, Masanori Nakano, Meteorological Office of Jamaica, ODPEM, Office of Disaster Preparedness and Emergency Management, social media, sustainable development, Twitter, weather