September 30th, 2018
We often speak, nowadays, of our most vulnerable citizens and the need to protect and care for them. The fact is, their needs and concerns are often "swept under the carpet," because they are unable or unwilling to speak up for themselves, and have no one to champion their cause. Because advocacy is certainly needed – strong advocacy. Such vulnerable groups include young children;"youth at risk," usually living in financially deprived circumstances; the LGBT community; commercial sex workers and other women in difficult situations, such as victims of human trafficking; young people in state care; and people of all ages with special needs – that is, physical and/or mental disabilities.
Have we missed somebody? Oh yes, "old people."
Please take a look at the Public Broadcasting Corporation of Jamaica's (PBCJ) new video feature on Protect Our Elders. It is very well produced and sensitively done. The link is here. Do any of the scenarios portrayed seem familiar?
The Caribbean Community of Retired Persons (CCRP), a membership non-governmental organization that supports and empowers senior citizens, also has an advocacy role. One of its major concerns is elder abuse, and this can take many forms: financial, physical, psychological, emotional and even sexual. Words are harsh. Elders feel disrespected, hurt, humiliated.
The numerous examples of elderly Americans, "scammed" and deprived of their life savings, tell you a great deal. Many of these citizens were lonely, isolated. They were "sweet talked." They even came to regard the criminals who targeted them as their friends. It is heartbreaking. And yet, some Jamaicans said they must have been "stupid" to have been taken in. This lack of compassion is extremely sad (and actually makes me extremely angry). Many of the scamming victims were quite possibly living with dementia or a mental illness or physical disability and were confused (or charmed) by the scammers.
The same kind of situation can happen right here in Jamaica. At a recent workshop on Dementia (of which Alzheimer's is one form) at the University of the West Indies, there was a discussion on how to protect older relatives from financial trickery – sometimes, sadly, at the hands of their younger relatives, who want to get their hands on their money or property. A grandmother or great-grandmother might be throwing away her financial security when told to sign on the dotted line. Then there is the matter of wills, forgery, fraud and so on. These cases are not at all unusual.
The physical abuse of elders may take the form of neglect, beating and other distressing actions. Many family members are not always around (often overseas) and unaware that caregivers they have employed to care for their ageing relative are mistreating them. Families must be cautious and vigilant when they leave their loved ones in the hands of others. Elder abuse often (or usually) happens behind closed doors.
CCRP Founder and Executive Chair Jean Lowrie-Chin says her organization is pushing for stronger legal protections for the elderly. She describes elder abuse as "a scourge" in Jamaica and in other developing countries. Our population is steadily ageing, and with age does come greater dependence – even though, in general, we are living a little longer. But physical frailty can overcome the best of us. Churches and some community-based organisations do provide support and care for the elderly. More needs to be done, and to some extent, it is with the ordinary citizen that behaviour change needs to take place – preceded by a change to a more caring mindset.
CCRP would like to see similar laws to the Child Care and Protection Act applicable to the elderly. If you witness or know of a case of elder abuse, for example, you should be obliged to report it. A Green Paper was tabled in Parliament this year (a revision of an earlier policy) by Minister of Labour and Social Security Shahine Robinson, who is passionate about issues relating to seniors. I hope it will move along swiftly and become a strong policy with regulations that will protect our vulnerable elders.
The major issue is that many, many cases of elderly abuse go unreported or ignored. This is significant, suggesting that our elders are not accorded respect (a quality that is in short supply at the best of times in our "every man/woman for himself" mentality). They are not always treated as valuable human beings who still have much to contribute – wisdom, experience, knowledge. They are "on the shelf," having outlived their usefulness, in some people's minds. They are not allowed or encouraged to live in dignity – and love.
Our senior citizens have made significant contributions to Jamaican life and society, helping to build our institutions, raising families, inspiring others, often going through tough times and facing their share of challenges and successes, as we all do. You only have to look at the four recent awardees under the CCRP Living Legacy Awards to recognize the value of our elders – and not only their past careers but also what they are still achieving. Awardee Dr Jean Small completed her Doctorate while in her seventies. When you are an older person, you don't stop having goals.
Yes, elders are human beings too. Like every citizen of this country, they have rights. Let us support them in every way we can.
If you know an older person who might simply need a hug… hug them today!
As Nelson Mandela, a great and wise leader in his later years, said:
A society that does not value its older people denies its roots and endangers its future. Let us strive to enhance their capacity to support themselves for as long as possible and, when they cannot do so anymore, to care for them.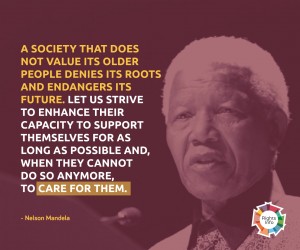 Tags: Alzheimers, Caribbean Community of Retired Persons, CCRP, Child Care and Protection Act, children, dementia, elder abuse, elders rights, human rights, Jean, Jean Lowrie-Chin, Jean Small, Living Legacy Awards, Nelson Mandela, PBCJ, Public Broadcasting Corporation of Jamaica, scammers, special needs, United States, vulnerable populations