Author :
cmunroe
We will never admit the amount of time and scarce financial resources required to get a machine performing at the level we aim for. The figure (dollar amount) if revealed, may provide sufficient grounds for some wives to file for divorce!
But, what is life without stratospheric levels of fun and excitement? Do you want to be trapped in a minefield stuffed with adrenaline bombs? Do believe in the Fast and Furious adopted – live your life a quarter mile at a time? If your response resides on the affirmative side of the fence, you should be familiar with the recipe which guarantees success! Build a drag racing machine, gather your friends and drive the slicks off the rims!
If you already have a drag racing machine the NDRC invites you to test it this Sunday. If it is deemed worthy you can participate for your share of the silverware and 'greenbacks' at Drag Challenge#3 (July 26th).
The Nestle Supligen Drag Racing Series has shown repeatedly that it provides the perfect vehicle for 'hotheads' to flex their speed-encrusted muscles. Horsepower and torque are interesting, occasionally ego-boosting numbers and drag racers, for the most part, are loyal disciples of the faith –  more power = quicker elapsed time! Bring it, the concrete will handle it!
I cannot recall Vernamfield's 1320ft of luxurious concrete fleeing from the abuse which a machine thinks it has to offer. The Williams boys ply their trade with 1000+ ponies, the 'Red Donkey' cannot decide how many Arabian stallions it employs and 'Bad Oil' is still trying to determine if he should chase the land speed record! Dean Shaw, after spending an eternity locked in a lab studying the Red Donkey's dna, emerged at Drag Challenge #2 and participated in drag racing's – Must See – event! The concrete, as it always does, kept both machines fast and honest and we witnessed an epic duel!
A rather rapid machine at Test and Tune.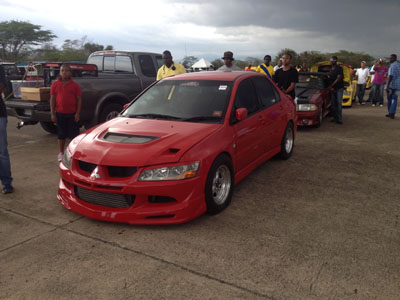 Is your machine ready? Is it worthy? Do you have what it takes to claim one of those trophies which the NDRC offers. Is winning an integral part of your genetic design? Test and Tune is this Sunday!
Cecil Munroe Gleaner On-Line Writer
The opinions on this page do not necessarily reflect the views of The Gleaner.
The Gleaner reserves the right not to publish comments that may be deemed libelous, derogatory or indecent.
To respond to The Gleaner please use the
feedback form
.