October 19th, 2019
Are Jamaicans overfed and under-nourished?
In Jamaica, World Food Day (October 16) was a rather low key affair. Agriculture Minister Audley Shaw attended an event in his own constituency of Christiana, Manchester, co-sponsored by the Food and Agriculture Organization (FAO) in Jamaica, and there were photo-ops.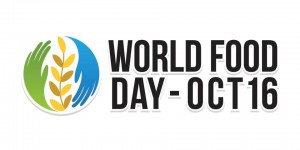 According to the FAO, poor nutrition causes nearly half (45 per cent) of deaths in children under five globally – 3.1 million children each year. 149 million children under 5 years of age—22 per cent of the global under-5 population—were still chronically undernourished in 2018.
Our Minister of Agriculture seems much more excited about prospects for the ganja industry – one of those areas where Jamaica has so much "potential" but has never quite achieved it – at least, not so far. I know there are "edibles" – which have dubious health impacts, as some of our tourists have discovered – but I am not sure that this is going to solve our food production concerns.
The theme of this year's World Food Day was: Our Actions are Our Future: Healthy Diets for a #ZeroHunger World. This fits in with one of the most critical Sustainable Development Goals – #2, Zero Hunger.
How are we doing on this SDG in Jamaica by the way? We may say that no Jamaican goes hungry, but is he/she well nourished? My sense is that much of the population is obese or overweight, but not necessarily "well fed." This is where the Ministry of Health and Wellness comes in – with its focus on prevention via diet and exercise and the Jamaica Moves project. Food security should certainly be a concern for Minister Tufton. And how many nutritionists are there in public hospitals?

Side Note: the FAO has a poster competition for children aged five to nineteen years across the world, so Jamaican kids can apply. The posters should show what needs to be done to improve our diets and make healthy foods more available to all. The deadline is November 8, 2019 and the application form is here. There is also a free Activity Book associated with the theme.
In my household, we have become very diet-conscious since my husband was diagnosed with Type 2 Diabetes. The doctor has recommended that we cut down on eating meat (sorry, keto dieters!) We have begged our local cook shop to add less salt to their dishes; they are very slow to understand, though – Jamaicans love food with lots of sugar and salt, although there are other ways of seasoning dishes.
Meanwhile, the Intergovernmental Panel on Climate Change (IPCC's) Special Report on Climate Change and Land released in August addressed the issue of land degradation and food security.  The IPCC recommended:
"Balanced diets  featuring plant-based foods, such as coarse grains, legumes, fruits and vegetables, and animal-sourced food produced sustainably in low greenhouse gas emission systems, present major opportunities for adaptation to and limiting climate change…"
Minister Shaw planted a lychee tree at the World Food Day event. This reminds me: how many of the promised "three million trees in three years" (revised downwards from four million) will be fruit trees? At this point, after the announcements and speeches, we need more details of this commendable tree-planting scheme. I am aware of an organization named the Trees That Feed Foundation, which operates in several developing countries, including Jamaica – where, the FAO notes, 12.9 per cent of the population is undernourished. Is this Foundation actively involved in the tree-planting project? I know they are doing a breadfruit survey in Jamaica – a great source of nutrition. But I would suggest that the Government needs as many private sector and community-based partners as possible to achieve the goal of planting trees and improving nutrition options.
So, we have been talking about diet and nutrition. I would suggest, however, that food security in general should not just be under the purview of the Ministry of Agriculture. It should also be an issue for:
the Ministry of Tourism. Our tourists are certainly not underfed, but what about food waste? What do our all-inclusive hotels, in particular, do with the vast amounts of food wasted on a daily basis?
the Ministry of Education. How are the Health Ministry's efforts to improve nutrition in schools going? Is there still a lot of pushback from producers of super-sugary drinks and super-salty foods?
the Ministry of Economic Growth and Job Creation (the Environment and Climate Change). The Environmental Foundation of Jamaica has given millions of dollars in grants for climate-smart agriculture projects in communities across the island, many using solar and other technologies. Can we have more of these?
the Ministry of Labour and Social Security. How are we doing in efforts to provide good food for the indigent, homeless and those at the lower rungs of society? Or are we still tremendously dependent on charities such as the Salvation Army and the Sisters of Mercy?
whoever is in charge of Housing at the Office of the Prime Minister. Are we going to continue building huge housing developments on lands suitable – or previously assigned for – agriculture?
the Office of the Prime Minister also has water in its portfolio. How are we doing with access to clean water for drinking and cooking?
So let's tackle the problem from all angles. And let's eat right. A healthy society is a productive society!
Tags: Audley Shaw, children, Climate Change, desertification, drought, education, FAO, Food and Agriculture Organisation, Food for the Poor, food security, food waste, healthy diet, hunger, Intergovernmental Panel on Climate Change, IPCC, Jamaica, Jamaica Moves, Ministry of Economic Growth and Job Creation, Ministry of Education, Ministry of Health and Wellness, Ministry of Industry Commerce and Agriculture, Ministry of Labour and Social Security, Ministry of Tourism, NGO, nutrition, Office of the Prime Minister, SDGs, sustainable development, Sustainable Development Goals, Technology, tree planting, Trees That Feed Foundation, United Nations, water resource management, World Food Day