November 10th, 2019
As I entered the quiet, cozy Alhambra Inn recently, I stopped to look at the beautiful koi carp swirling in the water near the entrance.
I was prepared to be inspired, not only by these majestic fish.
Why? Because I was attending a meeting organized by the Women's Resource and Outreach Centre (WROC). I know this community-based organization, over thirty years old, will always offer a thoughtful, open-minded discussion. This time members were attuned to all the nuances of a topic that has caused concern over the years for Jamaica. WROC and the University of the West Indies (UWI) – whose team leader is Professor Wendel Abel – are tackling the issue of maternal, neonatal and infant health. Jamaica has not yet attained the UN's Millennium Development Goals (MDGs) #4 and 5 relating to this area, which is problematic. We need to improve the health of pregnant women, new mothers and babies and prevent their deaths.
The European Union (EU) has been funding the development of a Civil Society Collaborative Forum  – a space for non-profit organizations to discuss, learn and advocate for human rights in patients' healthcare. The EU has in recent years worked to help provide support to Jamaica's non-profit sector in general, providing training and seminar opportunities.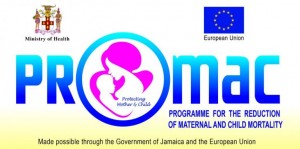 These programmes often have long names – a string of acronyms – and this is no exception. The EU's overall project is The Promotion of Patients' Rights in Maternal, Neonatal and Infant Health (PPPR/MNIH), and this includes providing equipment, training and so forth; this is under the umbrella of the Ministry of Health and Wellness' EU-funded project, the Programme for the Reduction of Mother and Child Mortality (PROMAC).
"Clap her!" called out Ms. Linnette Vassell, WROC co-founder and the facilitator of this Third Meeting of the Collaborative Forum after a participant spoke about the work of her organization. Her empowering presence steered the discussion along, while at the same time stopping to "stick a pin" to explore a particular point someone had made.
On the agenda was a review of the Forum's draft working document, outlining how civil society (that is, we the citizens) can provide input to public policy in relation to health matters. When we say "civil society" or "NGOs" or "non-profits" we are basically talking about ordinary "concerned citizens" – or groups of citizens – who have come together around a common cause. There is no mystery, nor should there be any suspicion about civil society. It is essentially, you and I and the man on the corner. "Civil society" is a student, a nurse, a construction worker, a teacher.
OK, so some civil society organizations may differ in their approach and may sometimes have different "agendas" and work in "silos."  But they can also be very effective, as they bridge the gap between the general public, political leaders and decision-makers.
The meeting made frequent reference to the Forum's human rights approach. In particular, vulnerable Jamaicans (for example, those with disabilities, LGBT citizens, senior citizens, at-risk youth, or anyone with a particular ailment such as HIV/AIDS or even sickle cell) are not always treated with kindness in the health system. Jamaica is diverse, but stigma and discrimination persist in the health sector. The thirty-plus participants from fourteen organizations (with a combined membership of many thousands of citizens) also noted that healthcare providers themselves have rights and that patients have responsibilities. A balanced, human-rights-for-all approach is always needed, and this should be carried forward into discussions with the Ministry of Health and Wellness. The Forum is hoping to meet with Minister Christopher Tufton soon.
Ms. Vassell stressed:
"Unless we as citizens are seized of our rights and our voice and our entitlement as human beings to demand the best, and to demand quality service, then things will not change."
The programme has been very busy with action projects. A Health Fair at the busy Half Way Tree Transport Centre, where people come and go, was hugely successful. WROC is proud of its Women's Empowerment (WE) Group of grassroots women, passionate advocates in the community of Lyndhurst/Greenwich near WROC's office. These women talk to their neighbours about sexual and reproductive health; they distribute condoms; they explain and discuss human rights, transparency, accountability with community members.
Later in the meeting, many of the seemingly intractable concerns that plague the health sector surfaced: staff shortages and migration, long waiting times, lack of "compassionate care" (despite all the training of health care workers), and so on. Participants focused on the Ministry of Health and Wellness' Ten-Year Strategic Plan. The general feeling was that, while there was lots of strategy, the plan was not sufficiently "people-centred." 
The health sector really reflects the many struggles within Jamaican society. Somehow, many of these problems end up in the public hospitals' accident and emergency units: murders, motor vehicle crashes, domestic disputes. The needs of the society are changing. Trauma cases are overwhelming. The Nurses' Association of Jamaica representative suggested that several discrete Trauma Centres should be set up, to take the pressure off the system.
Language is so important. What does "quality health care" really mean? Does it mean different things to different people?
One thing is for sure: We can only achieve higher standards for the people, with the input of the people. "Nothing about us, without us."
I wish the Collaborative Forum all the best as they continue their work for Jamaica's mothers and little children.
Tags: children, children's rights, Christopher Tufton, Civil Society Collaborative Forum, disabilities, elderly, European Union, health care workers, HIV/AIDS, human rights, Jamaica, LGBT community, Linnette Vassell, Ministry of Health and Wellness, motor vehicle crashes, NGO, Programme for the Reduction of Mother and Child Mortality, PROMAC, sickle cell, stigma and discrimination, trauma, UN Millennium Development Goals, United Nations, University of the West Indies, Women's Resource and Outreach Centre, women's rights, youth at risk